Alicia Carter '84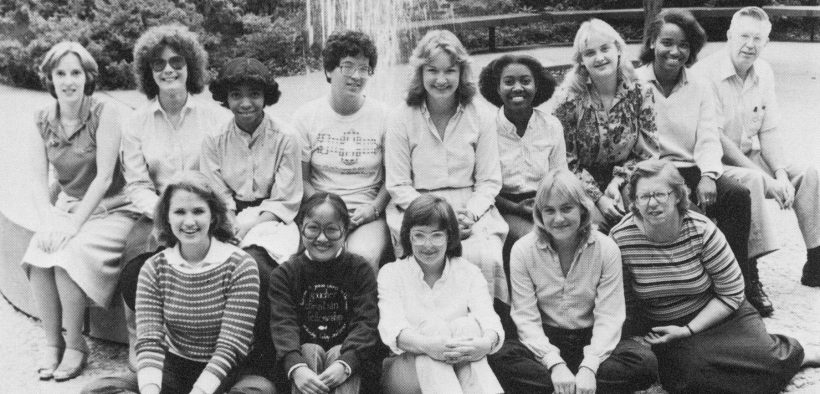 Alicia Carter made an impression on everyone who met her. "What I remember most about Alicia is her big smile," says Gwen McDonnell Lopez '84, who lived with Erin O'Brien Anderson '84 across the hall from Carter in Connor House of Stimson Hall. "She was always a happy person—always—and upbeat."
"She was always happy," echoes Zari Malsawma '83.
Carter came to Goucher in 1980 from Charlottesville, VA, majoring in economics. Naturally quiet, she blossomed around those with whom she was close, known for singing into her hairbrush "microphone," sharing the joy that burst out of her. "Alicia was one of our very first friends," says Anderson. "She was very generous. She was a kind soul." Carter had an affinity for plants and nature. She was known for her skill in reviving failing houseplants in the dorm. "That's where the garden came from," says Lopez, of the garden on campus dedicated to Carter's honor in 2014. "She loved plants, flowers, and seeing things growing and flourishing."
Goucher alumnae/i have always supported each other through the triumphs and tragedies of life. This was tested in the summer of 1983, when Carter had her life tragically cut short. For 38 years, the murder remained unsolved. Recently, ProPublica published a series of articles describing how the case was finally resolved. It's a story of dogged journalism, a dedicated physician who refused to let evidence from assaults disappear, and a brave survivor who came forward and would not let a serial rapist remain free. The confession of the man, already behind bars for life, has brought bittersweet closure to Carter's family and friends. He also confessed to assaults of two other Goucher students in this timeframe.
Carter had a deep faith. She was preparing to take over the leadership of the Goucher Christian Fellowship in the fall of 1983 and was preparing for a missionary trip to Africa after graduation. "We met through the [Fellowship]," says Malsawma. "We didn't have anything in common except our sisterhood in Christ. And yet the bond was so strong." Malsawma remembers a night she got lost in Towson with Carter a few months before Carter's death. She struggled to understand why God protected Carter then but not the night she died.
Two decades later, Malsawma was in a Bible study group focused on the Gospel of John. "James was martyred soon after Jesus died and rose again," says Malsawma. "But his brother, John, lived to old age. It was a revelation to me that God had different plans and purposes for the brothers." The epiphany made her think back to Alicia. "Life is so brief for some, prolonged for others. But long- or short-lived, God has a unique purpose for each of us."
Due to the developments in Carter's case and others, Anderson, Lopez, Malsawma, and Kim Van Newkirk Shaffir '83 are part of a group of alumnae working with Goucher's chaplain on an event at Alumnae/i Weekend this April that will recognize Carter's legacy, honor survivors, and celebrate the strength of their Goucher ties.
Carter was memorialized in August 1983 by her family and friends at her family church in the foothills of the Shenandoah Valley and buried peacefully alongside many family ancestors. She will be remembered, said her pastor, as a life that lived by the Golden Rule. "She's within nature," Anderson says, "and overlooking beauty, the outdoors, and plant life." The Class of 1984 has established a scholarship at Goucher in Carter's memory. Her wonderful smile is now reflected in the faces of the recipients.
Whether you knew Alicia Carter or just want to take a moment to reflect on those in your life who have been through trauma and tragedy, please consider attending this special event at Alumnae/i Weekend.
To find out more or get involved, contact Jennifer Pawlo-Johnstone at 410-337-6181 or jennifer.pawlojohnstone@goucher.edu.
(Photo at top): 1983 Donnybrook yearbook photo of the Goucher Christian Fellowship; Alicia Carter sits in the top row, second from right, while Zari Malsawma sits in the front row, second from left.