A doctor and a lady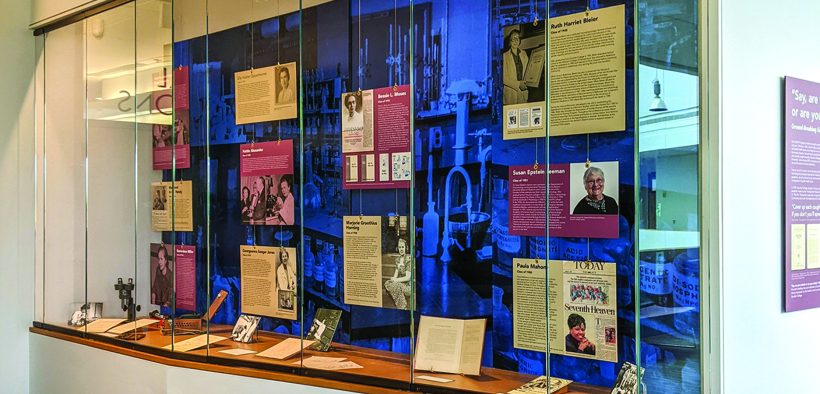 By Molly Englund
Dr. Lilian Welsh was touring a women's hospital in Philadelphia when a woman approached her and asked, "Say, are you a doctor or a lady?"
"Because apparently you couldn't be both," says Goucher College Public Services and Education Archivist Debbie Harner, with a laugh.
Welsh joined the faculty of the Woman's College of Baltimore, later Goucher College, in 1894. The story from the hospital was recounted in Welsh's book, Reminiscences of Thirty Years in Baltimore, which is currently on view, along with other writing, photography, and ephemera, in a Goucher Library Special Collections & Archives exhibit. The display, located on the fourth floor of the Athenaeum, has been aptly (and cheekily) named, Say, Are You a Doctor or a Lady?
Harner worked with Special Collections Curator Kristen Welzenbach, Director of Conservation and Preservation Melissa Straw, and student workers Kristina Covahey '21, Uyen Nguyen '22, and Devin Harris '23 to create the exhibit, which highlights pioneering women in medicine from Goucher's history.
The idea for the exhibit came from the college's plan to build a 35,000-square-foot addition to the Hoffberger Science Building, to be called the Science Research Center. The librarians wanted to create an exhibit showing Goucher's history of scientific innovations.
But they were intrigued to discover, as they began their research, that so many of the women studying science in the early days of the college went on to careers in medicine. So, they decided to narrow the scope of the exhibit. Say, Are You a Doctor or a Lady? was born.
Welsh is the only Goucher faculty member highlighted in the exhibit; the rest are college alumnae. The library team looked through yearbooks, donated papers and correspondence, and other alumnae materials that have been carefully organized over the years to tell these inspiring stories.
Stories like that of Genevieve Miller '35, who after college went on to Johns Hopkins University, where she became the first person to be awarded a master of arts for studying the history of medicine. Of Florence Siebert 1918, who identified a way to separate proteins from the bacteria that causes tuberculosis, which led to the creation of TB tests. And of Bessie L. Moses 1915, who established the first birth control clinic in Maryland. It is the stories of 13 women, including the first woman to be a contracted surgeon with the army during World War I and the first obstetrician to successfully deliver healthy septuplets.
These are stories that will continue to be told and preserved for future generations. Harner said that she had not heard of some of the women they discovered in their research and was fascinated by their discoveries and impact. "The strength of character it took for them to go out and be a 'first,' in their fields" she says, "it's just amazing."
Photos courtesy of Goucher College Library