New Art Exhibit: "Kaleidoscope"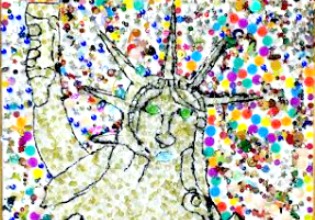 In Kaleidoscope, a new art exhibit at Goucher College, Baltimore area artists are presenting a variety of pieces for show and sale.
The exhibit, which is free and open to the public, is running now through mid-April in the Lenrow Gallery on the fourth floor of Goucher's Athenaeum. Artists' receptions will be held Thursday, April 3, 10-11:30 a.m. and 5-7 p.m. in the Pinkard Community Service and Multicultural Affairs Center, also on the fourth floor of the Athenaeum.
For more information about the exhibit, contact Santa Marie Wallace, assistant in the Office of Community-Based Learning, at 410-337-6251 or sawallac@goucher.edu.
This exhibit is sponsored by Goucher College's Office of Community-Based Learning and Gallagher Services, a program of Catholic Charities of Baltimore that provides an array of services, care, training, and therapy for adults with intellectual disabilities.