Spring 2014 Robert and Jane Meyerhoff Visiting Professor: General Stanley McChrystal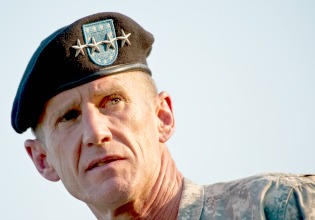 Retired General Stanley A. McChrystal will discuss his belief in universal national service, military or civilian, for Americans ages 18-28 in a talk titled "Compulsory National Service: Has the Time Come?" on Wednesday, March 26, at 8 p.m. in the Hyman Forum of Goucher's Athenaeum.
This event is open to the public, but tickets are required for all attendees. Tickets are free for Goucher students, faculty, staff, and alumnae/i; $10 for general admission. Reservations must be made in advance at www.goucher.edu/tickets or by calling 410-337-6333.
McChrystal, Goucher's Spring 2014 Robert and Jane Meyerhoff Visiting Professor, is a retired four-star general whose career in the U.S. Army spanned 34 years. He is the former commander of U.S. and international forces in Afghanistan and the former leader of Joint Special Operations Command (JSOC), which oversees the military's most sensitive forces. McChrystal's leadership of JSOC is credited with the December 2003 capture of Saddam Hussein and the June 2006 location and killing of Abu Musab al-Zarqawi, the leader of al-Qaeda in Iraq.
McChrystal, a former Green Beret, is known for his candor. While in charge in Afghanistan, he was openly vocal about the necessity for more troops, his doubts that the United States would achieve a major victory, and his lack of faith in the new counterterrorism strategy endorsed by Vice President Joe Biden. His comments got him called onto the carpet several times in his first year, and President Obama admonished him for his brash, divisive statements. In June 2010, Rolling Stone magazine published an article featuring controversial quotes McChrystal and his aides made about the White House leadership.
He was called to Washington, DC, several days later to meet with President Obama. At the meeting, McChrystal tendered his resignation. Obama accepted his dismissal and replaced him on June 23, 2010, with General David Petraeus.
McChrystal now serves at Yale University as a Jackson Institute for Global Affairs senior fellow and is cofounder of the McChrystal Group, a leadership consulting firm. He recently released My Share of the Task, his memoir and instructive account of the triumphs and trials of America's two longest wars. He is also heading the Aspen Institute Franklin Project to encourage and promote national service.
He has said universal national service should become a new American rite of passage for every young man and woman ages 18-28. Aside from serving in the military, young adults could enlist in other areas of national service devoted to urgent issues such as education, healthcare, and poverty.
The Jane and Robert Meyerhoff Visiting Professorship was created to bring distinguished scholars, teachers, and practitioners to Goucher's campus to advance local and national dialogues on pressing issues of our time. Previous speakers have included Doris Kearns Goodwin, Pulitzer Prize-winning American biographer; Cory Booker, mayor of Newark, New Jersey; Jane Goodall, British primatologist, ethologist, and anthropologist; staunch preservation advocate Robert F. Kennedy Jr.; Thomas L. Friedman, the three-time Pulitzer Prize-winning journalist and world-renowned author; and the late Dr. Wangari Muta Maathai, the Kenyan environmental and political activist who, in 2004, became the first African woman to receive the Nobel Peace Prize.