International Education Week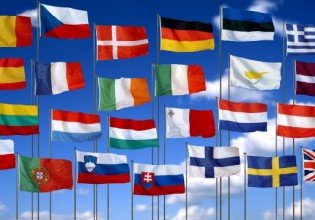 In keeping with its emphasis on developing students' global perspectives, Goucher will present a series of lectures, workshops, and other events from November 16 to 20 to celebrate International Education Week. A highlight will be the all-day International Forum on November 20.
A joint initiative of the U.S. departments of State and Education, International Education Week is a celebration of international education and exchange that promotes programs that prepare Americans for a global environment and attract future leaders from abroad to study and live in the United States.
The events for Goucher's celebration of International Education Week will be:
Saturday, November 16
International Festival
7 p.m.
Hyman Forum, the Athenaeum
The Goucher International Students Association (GISA) is sponsoring this festival, which will feature ethnic foods, professional belly dancers, free henna tattoos, games (with prizes!), and performances by students and various clubs.
Sunday, November 17
Concert by Heartbeat
3:30 p.m.
Hyman Forum, the Athenaeum
Heartbeat, an Israeli-Palestinian youth music community, will perform its youth musicians' original music, interweaving traditional and modern Eastern and Western styles. Members also will hold interactive workshops and share their experiences of growing up amid the Israeli-Palestinian conflict, highlighting their creative effort to build a better future.
Tuesday, November 19
"The End of Wonder"
7:30 p.m.
Hyman Forum, the Athenauem
Michael Wesch, an associate professor of anthropology at Kansas State University, will discuss the effects of new media on society and culture. After two years studying the implications of writing on a remote indigenous culture in the rain forest of Papua New Guinea, he turned his attention to the effects of social media and digital technology on global society.
Sponsored by the Office of the President and the Lectures and Fellowship Committee
Wednesday, November 20
International Forum
11:45 a.m. to 5 p.m.
Buchner Hall, the Alumnae/i House
Panels of faculty, staff, and students will explore international experiences and research. Panel topics will be:
12-1 p.m. – Arts and Intercultural Exchange
1-2 p.m. – Integrating International Experiences: Before, During, and After
2-3 p.m. – Sustainability and the Environment
3-4 p.m. – Social Justice
4-5 p.m. – Perspectives Over Time: Reflections on the Impact of International Experiences
Balkan\ART
5-6 p.m.
Rosenberg Gallery and Meyerhoff Arts Center
Students of the culture and alternative media intensive course abroad in the Balkans have curated this exhibit of works by more than 20 contemporary Bosnian artists.
José Obando
6:30-7:30 p.m.
Buchner Hall, the Alumnae/i House
José Obando will discuss the storytelling and musical traditions of the Galapagos Islands.
Sponsored by the Office of Multicultural Student Services, the Office of Community Living, Office of Religious and Spiritual Life, Goucher International Student Association (GISA), and the Student Government Association (SGA).