Building Careers and Bringing Together Goucher Generations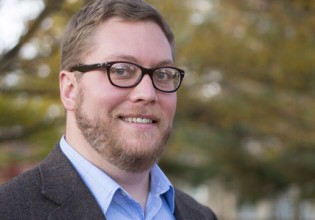 Casey Miller is new to Goucher and is eager to start bringing together current and previous students in his recently created position as associate director for alumnae/i career programming.
The position has been a goal for years for Traci Martin, director of the Career Development Office, and Margaret-Ann Radford-Wedemeyer, vice president for development and alumnae/i affairs. "We realized the need to bring students and alumnae/i together; there are so many obvious benefits to that," Martin said. "The networking between the two has been happening naturally for years, but a dedicated staff member will create and expand programs."
"It's a really new development in higher education, combining alumnae/i and careers," Miller said.
Miller first entered career development at the University of Maryland Baltimore County and then at Johns Hopkins University before coming to Goucher. What started for him as an entry-level position has evolved into a calling. "I really love it — I really love helping students, and I really love getting to know employers in the area."
At Hopkins Miller expanded upon the traditional concept of career development by bringing parents and more alumnae/i into the process.  "I specifically developed internships and full-time opportunities for undergrad students from alums and parents. It was kind of a traditional employer relations role with that special piece of reaching out to parents and alums," he said.
Miller sees his new position at Goucher as a natural extension of past projects. "It seemed like a really good fit … . It's rewarding to grow and challenge myself and stay in the same field. … And I have been just overflowing with ideas since I started, since before I started, and since the interview!" he said.
Some ideas include developing a network for students to connect with alumnae/i as mentors. He'd also like to develop a job-shadow program with alumnae/i so students can explore firsthand what it's like to work in different industries and fields.
He's also looking forward to more collaboration between the Career Development Office and faculty. "The faculty are already bringing alumnae/i to campus to career events," he said. "If we can take some of that off their shoulders and increase the number of alumnae/i who come to campus, everybody wins."
Miller, who started October 21, said he already loves Goucher and its strong sense of community. "Everyone has been incredibly welcoming," he said.
Miller also says he's excited and honored to have been chosen for the new role at Goucher. "Right now it seems like a key position for the continued growth of the college, and I definitely respect what I'm expected to do in my role," he said.
"Casey viewed all of this as an opportunity to be creative and develop his own structure and institutional partnerships," said Radford-Wedemeyer. "Traci and I are confident he has the sound judgment and professional maturity needed to build a successful alumnae/i career program."
When he's not working on connecting gophers with their future goals, Miller lives with his wife in Charles Village. He's a proud native of Baltimore and enjoys baking, writing, live music, and biking. Students and alumnae/i interested in reaching out can contact Miller at 410-337-6191 or Casey.Miller@goucher.edu.