Summer Science Series: MRI for a Molecule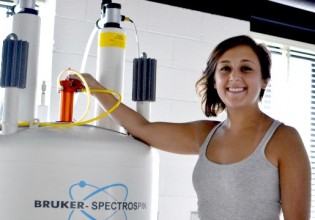 Leslie Laguna '14 has spent the past eight weeks working on a new way to make selected organic molecules. The molecules, which can be found in tea, red wine, and vanilla, are also present in more complex molecules with medicinal uses: treatments for cardiovascular disease and tumors, sedatives, and medications that help induce labor and prevent post-partum hemorrhaging.
"These molecules have a really important role in the medical field," she said. "Every day has been a learning experience; there's always something interesting."
Laguna is varying these molecules and creating new ones to see if they produce the same reactions. The hope is that this kind of research can help lead to the synthesis of better drugs.
For her research, Laguna routinely analyzed her molecules on a 400-megahertz nuclear magnetic resonance (NMR) spectrometer, basically an MRI for organic molecules. Her adviser, Ruquia Ahmed-Schofield, associate chemistry professor, said it's rare for undergraduate students to have access to this type of equipment at other institutions. "Goucher is truly a special place," Ahmed-Schofield said, "With a smaller department, our students have more of a chance to work one-on-one with professors. They have direct access to numerous modern equipment/instruments and are able to participate in research activities such as the summer program."
Laguna became involved with the research after enjoying an organic chemistry class her sophomore year when Ahmed-Schofield was her lab instructor. "I really liked her; I found out about this project, and I thought that would be really awesome to work on," Laguna said.
Though Laguna is a chemistry major on a pre-med track, she said having lab experience and a backup plan is reassuring. "In case I'm not interested in medical school in the future, or it doesn't work out, I really do like working in the lab, and I am passionate about research," she said. "I think that's valuable to know."
Laguna is one of 23 students working with 15 faculty members during the 2013 Summer Science Research Program at Goucher. Undergrads work with professors on research in biology, chemistry, mathematics and computer science, physics, and psychology while living on campus and being paid a stipend.
For more information, visit the website.