Welcome, Class of 2017!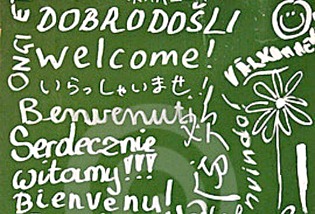 The 410 members of Goucher's entering first-year class were chosen from 3,461 applications. Members of the Class of 2017 are coming to Goucher from 359 high schools in 39 states, the District of Columbia, and eight countries beyond the United States. Nearly 60 percent of the first-year students applied through the Early Decision and Early Action options, indicating Goucher as either their top choice or among their top college possibilities.
More than one-quarter of the first-year students who were ranked graduated in the top 10 percent of their high school graduating classes, and nearly half were in the top 20 percent. The average SAT (combined Critical Reading and Math) for the entire first-year class is 1,158, up 30 points from last year, and the average ACT composite score is 26. Also notable is the ethnic diversity in this year's first-year class — 26 percent of the Class of 2017 are multicultural students.
Goucher's incoming first-year students are also an accomplished group outside of the classroom. While in high school, 47 percent received academic awards; 64 percent were involved with the fine and performing arts; 53 percent participated in athletics; and 88 percent performed community service.
In addition to the first-year class, Goucher also extends a warm welcome to a group of 34 new transfer students who were selected from a transfer applicant pool of 208. These transfer students represent 11 states, the District of Columbia, and one country beyond the United States.
The Goucher community welcomes this talented group of new students and their families, and looks forward to their continuing achievements, beginning this fall semester and culminating with their graduation from Goucher.