Summer Science Series: Finding a Gene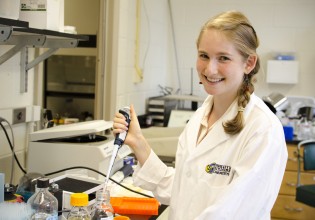 If you saw a fruit fly around Hoffberger Science Building this summer, it was an escaped ward of Maura Coughlin '14 and Leah Hirschman '15. The two biology majors bred, fed, tested—and dodged—the insects as part of their work on genetics with the Goucher Summer Science Research Program and their adviser, Associate Professor of Biology Mark Hiller.
Coughlin '14 said the flies, called Drosophila melanogaster, are used in a lot of studies because of their quick life cycle and completely mapped genome. Coughlin and Hirschman used the animals to study a protein involved in sperm development. "We don't know what this protein does yet; we're trying to figure that out," Coughlin said.
The project involves mating flies with different genetic variations and tracking and analyzing the offspring. "It's years' worth of work; there's no shortage of things to do," Coughlin said.
Hirschman said it can be hard explaining to people what they're doing, but the complicated, detail-driven tasks are rewarding. "I think it's really cool," she said.
At the most fundamental level, their work could help with all sorts of research, even cancer prevention. Coughlin said she has been struck by the project's distinctiveness. "We're working with this gene that literally nobody in the world knows what it does; if we were to find that out, we'd be making very real progress."
Coughlin became involved in the research project after taking a genetics class with Hiller. "Because it's Goucher, I was able to participate a lot in the class," she said. "Dr. Hiller noticed I had an interest; we talked, and he offered me this position. It's a nice way to get practical experience in the academic field I've been pursuing."
Hiller himself has already discovered and named two genes. "That just shows you how cool Goucher professors are," Coughlin said. "You're getting real-world experience from somebody who has a lot of real-world experience."
The two say no matter what they do with their degrees, the research experience has been great. "I'm in the lab every day working on my own, making my own decisions. I'm learning techniques. I've practiced presenting, making a poster, going to a conference. It's a great way to get practical experience," Coughlin said.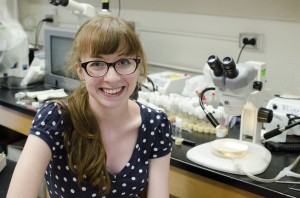 Hirschman agreed, saying it was building her confidence in the lab, where she focuses on cellular development and differentiation, charting different parts of the progress.
There have been benefits outside of the lab, as well. "This is an ongoing project a lot of students have been a part of," Hirschman said. "I think it's cool to have that connection with alums and future alums who will come through this lab … . It's this whole summer science research community that is growing at Goucher."
Coughlin and Hirschman were two of 23 students who worked with 15 faculty members during the 2013 Summer Science Research Program at Goucher. Undergrads work with professors on research in biology, chemistry, mathematics and computer science, physics, and psychology while living on campus and being paid a stipend.
For more information, visit the website.