Gophers and the Wonderful, Outstanding, Very Good, Rather Nice Day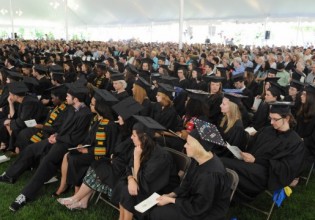 Judith Viorst—award-winning author of the children's book Alexander and the Terrible, Horrible, No Good, Very Bad Day—will receive an honorary degree and deliver the keynote address at Goucher's upcoming Commencement ceremony.
Though celebrated for her children's literature, Viorst also has had tremendous success with nonfiction books for adults, including Necessary Losses: The Loves, Illusions, Dependencies, and Impossible Expectations That All of Us Have to Give Up in Order to Grow, a bestseller that addresses growth and change through losses that are an inevitable and necessary part of life. In a 2007 New York Times profile, Viorst was called "a keen anthropologist of family life" and was noted for her "quick wit and a penchant for self-revelation."
Viorst has the professional life and background to provide comments that will encourage, engage, and make an impression on the audience of graduates, said President Sanford J. Ungar, who procured the speaker through personal connections after informally quizzing students if they knew of her work.
Viorst is a well-rounded writer on many subjects, including many related to her secondary field of psychoanalytic research, with books such as Imperfect Control: Our Lifelong Struggles With Power and Surrender and You're Officially a Grown-up: The Graduate's Guide to Freedom, Responsibility, Happiness, and Personal Hygiene being particularly relevant to her upcoming talk. She is also a newspaper columnist and has written frequently for The New York Times and The Washington Post, and she has been a contributing editor to Redbook magazine. In 2011 she received the Foremother Award for Lifetime Achievement from the National Research Center for Women & Families.
Other past Goucher Commencement speakers have included Maurice Sendak of Where the Wild Things Are fame; a NASA administrator; a writer for The Simpsons; Oprah; and journalist and radio producer Ira Glass, last year.
The process to find a keynote speaker starts a year in advance of Commencement. At the end of the school year, rising seniors generally draft a list of potential speakers. The list is approved by Ungar; he adds some ideas, and they are sent to the Executive Committee of the Board of Trustees. Speakers are not paid, but instead rewarded with an honorary degree by Goucher.
Viorst will speak at the 122nd Commencement exercises that take place on Friday, May 24, at 10:30 a.m. on the Margaret M. Winslow Great Lawn, between the Athenaeum and Welsh Hall.
In addition to Viorst, honorary degrees will be awarded to Kwame Kwei-Armah, the artistic director of Baltimore's Center Stage, and Laura Amy Schlitz '77, a Newbery Award-winning children's author and librarian at the Park School in Baltimore.