Make This Summer Count: Undergraduate Summer Course Offerings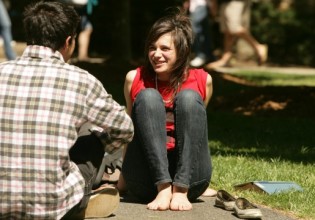 At Goucher, learning never stops. Starting Monday, June 3, the college will start its summer term.
"There's an active community here in the month of June many students don't know about," said Frances Ramos-Fontan, a summer instructor of intermediate Spanish.
She said the program holds a lot of allure for students due to the flexible, yet intensive, classes. Her four-credit, four-week course will be held Monday to Thursday from 9:30 a.m. to 12:45 p.m. "I definitely think it's a great immersion experience for the students," she said. "It's good when both the student and instructor can focus on one subject." Often for those who like concentrating on other subjects during fall and spring semesters, fulfilling the language requirement in the summer can be helpful for staying on track academically.
Aware of the long hours of her class, Ramos-Fontan tries to make the material engaging, often with students moving around, having activities outside, and interacting with the Futuro Latino Learning Center on campus, of which she is the director. She said she looks forward to teaching the class again, and evaluations from previous summer sessions show students do as well.
The language class is just one of the classes—both online and in the classroom—available to Goucher students, those enrolled at another university, or simply lifelong learners.
The extra semester can help knock off a class in half the time of a regular semester and with plenty of time left over to enjoy summer activities. Classes range from the online course "Survey of Dance History" to a special actor-training residency with the Maryland Shakespeare Festival. Courses vary in length, but all will be offered between Monday, June 3, and Friday, July 26. Registration began March 1 and is ongoing. Limited on-campus housing is available, primarily in Welsh Hall.
For more information on fees, housing, classes, and schedules, visit here or contact the Registrar's Office at registrar@goucher.edu.