Welch Center for Graduate and Professional Studies Appoints New Academic Leaders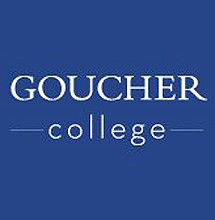 Goucher College's Robert S. Welch Center for Graduate and Professional Studies has promoted two members in its innovative Master of Arts in Cultural Sustainability (MACS) Program. Tiffany Espinosa, formerly a co-director of the MACS program, will now serve as the Welch Center's assistant dean, and MACS faculty member Tom Walker is the co-academic director for the MACS program, as well as the acting director for one of the center's newest initiatives, a graduate program in environmental studies.
Espinosa specializes in new organizational models and social entrepreneurship, focusing on how to leverage business tools to make positive social and environmental impacts. Her previous experience includes serving as an administrator with the University of Colorado Denver's Business School; as a lecturer in business, education, and natural resources; and as an administrator at an innovative model of residential youth health care.
Espinosa earned her bachelor of science in social sciences with an emphasis in social theory and social justice from the University of Michigan, Ann Arbor. She went on to earn an MBA and a master of arts in education with a concentration in information learning technologies, adult learners, and instructional design from the University of Colorado Denver. She is completing her doctorate dissertation at Colorado State University, tentatively titled A People's History of the National Parks, focusing on human dimensions of natural resources and the role of power, politics, and community engagement in shaping the national park landscape. 
Prior to his recent appointment, Walker was a faculty member in the MACS Program who taught courses on environmental sustainability and community organizing. As an academic trained in anthropology, history, and folklore, he has worked primarily in the public sector. For more than 20 years he has been an independent consultant engaged in the culture of work, the working class, and radicalism as an ethnographer, event organizer, and advocate. As a venture philanthropist, Walker has served for more than 20 years as a trustee to a family foundation that funds research, policy, and projects addressing environmental economics in areas of climate change, energy policy, sustainable fisheries, green taxes, ecosystem services, and ecotourism.
Walker first studied folklore as an undergraduate at the University of Edinburgh in Scotland and received his doctorate in folklore and ethnography with minors in anthropology and history at Indiana University, Bloomington.
The Welch Center for Graduate Studies provides adults with opportunities for a degree, career change, professional advancement, and enrichment. The center offers limited-residency programs for students pursuing a Master of Arts in Cultural Sustainability, as well as a Master of Arts in Arts Administration, Master of Arts in Historic Preservation, Master of Fine Arts in Creative Nonfiction, and Master of Arts in Digital Arts.
Goucher's Master of Arts in Cultural Sustainability Program—the only one of its kind in the country—brings together tools from anthropology, history, communications, business and management, linguistics, and activism, and it teaches students how to sustain cultural traditions in an era of increasing homogeneity and globalization.