NCAA Division III Week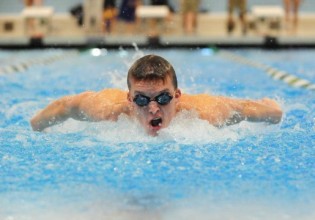 Whether they compete on fields or courts, in pools, or on the backs of 1,000-pound horses—Goucher athletes are being recognized and celebrated as the college participates in NCAA Division III Week.
From April 8 to 14, the Gophers are joining approximately 450 other colleges in celebrating students' athletic and academic accomplishments. Roughly 20 percent of the Goucher student body participates in intercollegiate athletics, and because there are no scholarships at the Division III level, these athletes play solely for the love of the game and experience.
"I think for these students, participation in sports is huge," said Geoff Miller, director of athletics at Goucher. "It sounds like a cliché, but they're learning so much—commitment, sacrifice, teamwork, leadership, communication. There are just so many things going on that we're trying to teach in four years."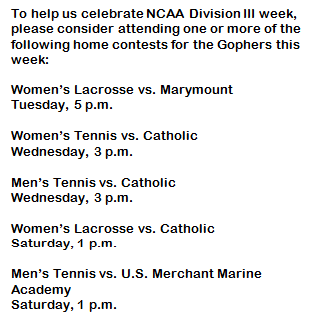 Student Athlete Profile: Colin Richter
"The family." That's what Colin Richter '16 says he likes best about Goucher.
He could be speaking literally because his fraternal twin brother is also a first-year student here. Perhaps Richter means the close-knit relationships he has with other members of Goucher's swim team. But what he ultimately means is the supportive, sociable Goucher community as a whole.
"I like knowing that I can have a good conversation with anyone on campus," Richter says.
However, when Goucher Men's Swimming Head Coach Tom Till started emailing to recruit him, Richter says he didn't think much of it at first. He was considering other Division III schools, but he hadn't heard much about Goucher. Then, he says, "I started looking into Goucher deeper and deeper, and I really liked the school. And I especially liked the swim program."
He came to campus and did an overnight stay with a swim student; he got to see the campus and watched the swim team practice. His brother Morgan followed suit, and they both enrolled — in fact, they're teammates and roommates.
"The swim program was definitely a big, big thing that brought me to Goucher," says Richter.
He's been swimming for 10 years and knows that discipline and time management really come with the sport. "The one thing people really don't understand about swimming is the amount of time and amount of work that goes into it," he says.
So while competing at the college level hasn't changed his drive and restraint, Richter says he really has benefitted from the social aspects of being on a team.
"You always have that friend base," he says. "Coming in you're nervous about getting started and making friends, especially at freshman orientation. It's just awesome to have that group of friends that you can fall back on."
Most of the seven first-year male swimmers live on the same floor of the same dorm, so Richter says they hang out all the time. Friday and Saturday nights, he and his brother host movie nights so people have an alternative to being in situations where there could be alcohol or other illicit substances. He and his brother don't use either. "We don't like those influences," he says.
With his maturity and clarity of purpose, Richter already is proving to be a benefit to the Goucher community he calls family.