Baltimore City Forum 2013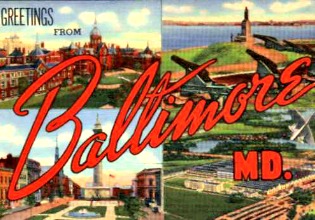 This April, Goucher College will host the Baltimore City Forum, a student-organized series of events that will explore obstacles and issues impacting Baltimore City.
Documentary Screening of Baltimore, We Love You
Tuesday, April 9
8 p.m.
Kelley Lecture Hall
This new documentary, sponsored by the Roosevelt Institute and Amnesty International, highlights different levels of poverty in Baltimore. The film aims to bring attention to the city's homeless, refugee, and immigrant populations, as well as workers' rights and sex trafficking. A question-and-answer session with the filmmaker, Mawish Raza, will follow.
Toxic Tour
Saturday, April 13
2 p.m.
Meet in front of the Dorsey College Center
Glenn Ross, an urban environmentalist, will lead a two-hour-long bus tour of "toxic sites" in Baltimore City that have been victim to environmental injustice. Urban development has disproportionately affected the environmental health of particular areas in Baltimore, most of which are inhabited by minorities and low-income citizens. A question-and-answer session will follow. Sign-up is required; e-mail Bridget Biddle '13 at Bridget.Biddle@mail.goucher.edu. 
"Stare in the Darkness"
Tuesday, April 16
7 p.m. 
Hyman Forum, Athenaeum
Doctor Lester Spence, of the Baltimore Mixtape Project, will speak about hip-hop as an artistic and political medium. The talk will specifically focus on how music can be consumed with a historical and analytical frame. 

Education Panel Discussion
Wednesday, April 24
6:15 p.m.
Batza Room, Athenaeum
Panelists will discuss the issues surrounding the public school system in Baltimore, with attention to government policy, the past and present of education in Baltimore, and solutions offered for future reform. Members of the panel will include La Jerne Cornish, chair of Goucher's Department of Education, and Professor of Education Eli Velder. 
For more information about any of these events, contact Annie Causey '15 at elcau001@mail.goucher.edu.
This year's Baltimore City Forum is sponsored by the Social Justice Committee.