Renovating a College Landmark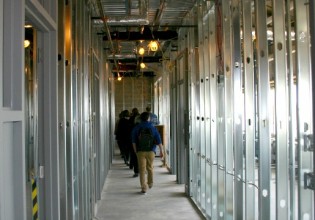 The engraved letters above the entrance may still read "Julia Rogers Library," but instead of books, the building on Goucher's Academic Quad will soon house a robotics lab, the Goucher Poll center, an international commons, the Welch Center for Graduate and Professional Studies, offices, classrooms, and support services, among other features.
About 60 staff, faculty, and students toured the active job site last week to take a rare peek inside the 65,762-square-foot structure currently surrounded by fencing and construction equipment.
The renovation started in May 2012, going from the top down in the building that is slated to be LEED silver rated in the U.S. Green Building Council's Rating System, the nationally recognized standard for measuring a structure's environmental sustainability. Linda Barone, project manager with Goucher's Facilities Management Services, said because they are renovating an existing shell, the process is different than it was with constructing the Athenaeum, which is LEED gold rated. "Retrofitting is a lot of making the building a whole lot more airtight and energy efficient," she said.
The structure was originally completed in 1952, with additions and renovations in 1968 and 1986. Julia Rogers, a friend of the then college president, left Goucher her estate in 1944. It was the largest gift the college had received at that time, and it was decided that the self-educated booklover would be honored by building the campus library with her gift.
A big shuffle will occur when the newly named Academic Center at Julia Rogers is ready on July 29. Departments and organizations that have been "spread all over campus and doubled up," according to Barone, won't have to wait long to move into their new home.
Whiting-Turner Project Manager Mark Cutair said the more time-consuming part of construction is over, and remaining tasks will go much quicker. "It's easier to throw drywall up than a mechanical system," he said.
The $26 million project preserves a beloved campus landmark while also presenting new options for supporting student success, collegial relationships, and new research opportunities.
Megan Cornett, director of marketing and communications at the college's Welch Center for Graduate & Professional Studies, said the building will be a boon for the academic goals for the college, including the Welch Center. Like other departments, the center will gain offices and meeting space with their upcoming move to the building. Cornett said it will bring the staff of the growing programs together. "The biggest thing for us is the ability to consolidate our efforts and be in the same space together," she said.
More on the building's history can be found here, and information on the campaign to fund the project can be found here.
Feel like you missed the chance to see the building in transition?
Extra tours are now open for Tuesday, April 9, and Wednesday, April 10, at 4 p.m. and 4:30 p.m. They will be led by Linda Barone, project manager at Facilities Management Services, and Whiting Turner Project Manager Mark Cutair.
Each time slot is limited to 20 people; to sign up, go to http://www.wejoinin.com/sheets/qflny.
Interested community members will meet at the building's main entrance off the Academic Quad. Please be aware that during this stage in the construction process, there are no operating elevators, nor is there wheelchair access. Since this is an active construction site we ask that you wear closed toed shoes for your safety. Please email Linda Barone at lbarone@goucher.edu with any questions.