Women of letters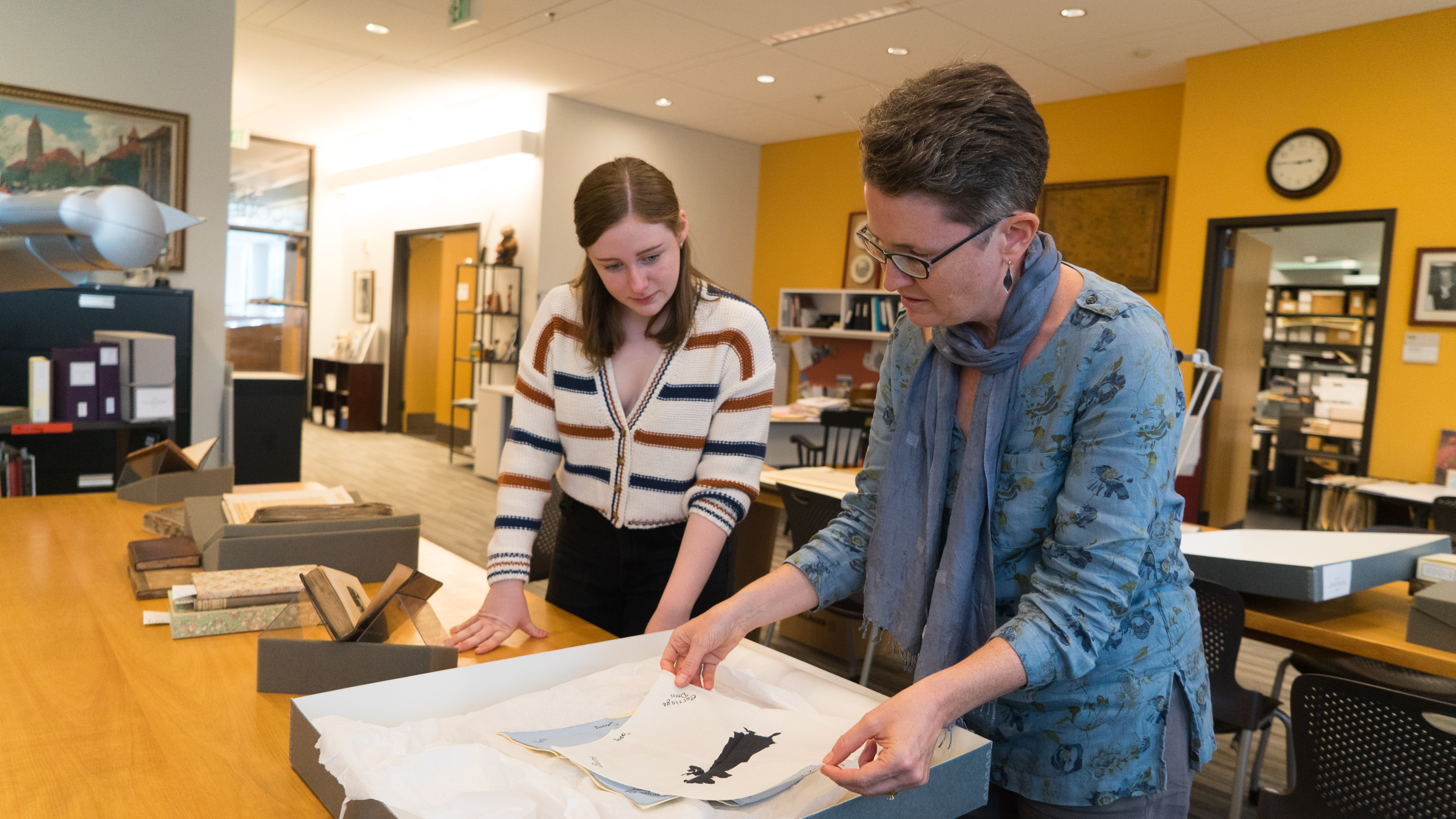 Summer at Goucher College is marked by possibility—animals wander even more boldly, rain threatens many afternoons, and exciting discoveries could come at any time.
Discoveries, that is, from collaborative research between faculty and students that happens after the school year ends. In the past, that largely took place in the Summer Science Research Program. Now, other scholars and students are getting in on the fun and taking advantage of the Stella Yousem Family Endowed Scholarship for Mentored Student Research, which specifically supports research in the social sciences, the humanities, and the arts.
Now in its third year, the Yousem Scholarship is one of the community's best-kept secrets. But according to Professor Juliette Wells, who collaborated with a student in the library this summer, that should change. "It's really a marquee program for Goucher," said Wells. "I hope it will become better known."
Wells and her student Allie Bowerman '19 finished their own research with a Yousem Scholarship in July. The two spent six weeks transcribing and annotating a new addition to the library's Jane Austen Collection in the form of letters from Alberta Burke '28 to her English friend Averil Hassall, both passionate Austen fans, or "Janeites."
The letters themselves were an unexpected discovery. Goucher's library received its Jane Austen Collection from Burke at the time of her death in 1975, with additional material following her husband Henry Burke's death in 1989. Among the collection, which includes books, theater programs, and other contemporary ephemera, were letters to Burke from Hassall. Wells mentioned the correspondence in her 2011 book, Everybody's Jane: Austen in the Popular Imagination. Hassall's son came across it and messaged Wells to tell her that he had some letters from Burke to his mother. Would Goucher be interested?
"Oh my gosh, of course we would be interested in new letters that help shed light on this collector who's so important and so interesting," Wells said later with a laugh. Wells first came to Goucher in 2010 to perform research as part of the Jane Austen Scholar-in-Residence Program, and joined the English faculty in the fall of 2012. In addition to academic papers and editing Austen works, she has since written a second book, Reading Austen in America, and a third is forthcoming.
The letters were a perfect project to take on with a student. Wells invited English majors, minors, and book studies minors to apply for the opportunity. Among the many qualified applicants was Bowerman, an English major with a minor in book studies, who had just completed Wells' seminar, Jane Austen and Her Readers, and had done an archival research project the previous summer on Rudyard Kipling.
"It was really exciting," said Bowerman. "When it comes to research, it's sort of a detective experience where you're solving a mystery."
The new letters date from 1959 to 1963, offering just a small window into a long friendship. Mysteries did indeed abound, mostly in Burke's often-terrible handwriting. And mysteries were solved. No one familiar with the college's Jane Austen Collection knew how Burke and Hassall had met, but the letters show they met, by chance, on a train in England in 1935.
Wells and Bowerman had a system to tackle the letters, with Wells mostly reading aloud and Bowerman transcribing, consulting each other on unclear words or unfamiliar references. They made annotations identifying people, publications, and events mentioned in the letters. Wells has a background in classical music, Bowerman in ballet, and together they learned and showed each other more of the context of the world Burke and Hassall were writing in.
For as much as the two friends were writing about Austen, they also chatted about their health, their husbands, and other books they were reading. "It's very personal. Since we didn't have anything like that, it really helps fill out the picture of [Burke]," Wells said.
"Our collector was writing from Baltimore, and she was always saying, 'Oh, the weather is terrible. It's been in the 90s and humid for days,'" said Wells. "We can relate to that."
Bowerman was overwhelmed at first. "I had that sense of, 'Am I really allowed to be in here?'" she said referring to Goucher's archives. "It's really amazing to be able to touch the materials, and be trusted with them. Other colleges don't have the kind of open access that Goucher does with its Special Collections."
Being able to hold that history in her hands made it more real to Bowerman. "It made the whole project feel more grounded in reality," she said. "It's just more exciting."
Both were grateful for the Yousem Scholarship. It allowed Bowerman to live on campus, cover her costs, and focus on the work. The scholarship also covered costs for Wells as she traveled for additional research for the project.
According to Wells, "It's another not very well-known advantage that Goucher has. It's another reason to choose Goucher and come here."
The research will inform Wells' next book, which looks at Austen readers and collectors. "Reading Austen in America is the most historical piece of writing I had done," said Wells. "It took me in a new direction. I'm going to be writing more in that vein for the new book, one chapter of which will focus on these letters."
Currently, Bowerman thinks she wants to study to become a librarian after college. She will take everything she has learned with her. "By being a kind of apprentice to [Wells] I learned a lot about research and organization … I really benefited from seeing her work and picking up her habits."
For more information about the Jane Austen collection at Goucher College, please visit https://libraryguides.goucher.edu/janeausten.