The Download: Mileah Kromer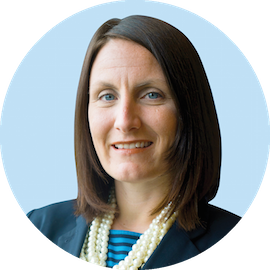 Mileah Kromer is the director of Goucher's Sarah T. Hughes Field Politics Center and a professor of political science. She also heads the Goucher Poll, which surveys Marylanders on a variety of issues. She received her bachelor's degree in economics from Indiana University of Pennsylvania, then headed straight to Louisiana State, where she received her doctorate in political science. She lives in South Baltimore with her husband, Michael, and their dog Porter.
Reading
In general I'm a political junkie—it's infotainment for me, so I read American politics and state politics news constantly. It's the majority of what I actually read.
I guess I do have a favorite type of novel—apocalyptic dystopian fiction, anything to do with zombies, like World War Z, anything that has to do with a plague or disease that wipes out humanity, so I also liked The Stand. And I almost hate to say this, but I really loved The Hunger Games. I guess there is a specific genre that I like reading.
Watching
My husband and I are TV fans; it's a thing we do together. We get hooked on series, so Walking Dead is one of my favorites and Game of Thrones—
oh, I've also read those books.
Listening
I'm not much of a music person. Really the only time I listen to music is pop music when I'm running. It's just not a big part of my daily life at all.
I do like Beyoncé.
Following
All the polling and data-driven political blogs. I follow Mark Blumenthal, and HuffPost pollster. The FiveThirtyEight blog and New York Times' Upshot, as well as Washington Post's Monkey Cage blog, which is written by political scientists. And I read The Baltimore Sun daily. Bryan Sears from the (Maryland) Daily Record keeps a Maryland politics blog called Eye on Annapolis, and I read that as well.
Spare Time
I'm outdoorsy. My husband and I try as much as we can to hike the state parks in Maryland, and we're also trying to see all the national parks in the United States—that's our marriage goal. We've been to five so far—Acadia, Shenandoah, Virgin Islands, the Everglades, and Rocky Mountain. I also spend an excessive amount of time with my dog.