Q&A: Alex Ebstein '07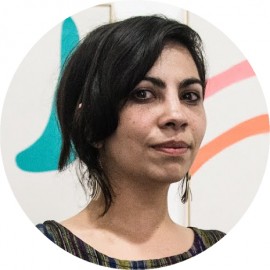 Artist, writer, curator
Goucher Magazine: Briefly describe your career (what you do, where you do it, why you do it).
Alex Ebstein: I am an artist, curator, and arts writer, active in Baltimore since 2008. I began my post-Goucher art career by founding my own arts blog (called "There Were Ten Tigers") and documenting the local art scene. Through that endeavor, I became well-versed in the local galleries, venues, collectives, etc., and sensitive to the lack of professional exhibition spaces accessible to young, emerging artists. I began writing for Baltimore's City Paper, covering the arts as a freelancer, and I worked with my partner Seth Adelsberger to convert our live/work space into a gallery that we called Nudashank. From March of 2009 to August of 2013, we hosted exhibitions (exhibiting the work of national and international emerging artists) in our Baltimore location and were invited to curate shows in New York, Richmond, Philadelphia, and DC. Our program received press from New York Magazine, Condé Nast Traveler, The L Magazine, and a number of niche, art-specific publications.
In addition to curating and writing, I also worked in the studio as often as possible on my own artwork and balanced a number of part-time jobs. I had more and more opportunities for my own work, and in 2013, we made the decision to close the gallery and concentrate on our individual careers. I received my M.F.A. from Towson University in May of 2015. My current work is mixed-media, 2D pieces that are a mix between painting and collage. I use yoga mats to investigate the space between abstraction and figuration, suggesting the body through material rather than direct depiction.
What has been your biggest professional accomplishment?
My biggest professional accomplishments so far are teaching a professional practices class at MICA; a brief feature on my work in Fast Company's design blog; interviewing Michelle Grabner on her curatorial strategy in the last Whitney Biennial; exhibiting alongside one of my heroes, Richard Tuttle; and receiving City Paper's Best Visual Artist Award in its 2015 Best of Baltimore issue.
What has been your biggest personal accomplishment?
My biggest personal accomplishment is being part of Baltimore's art community. I have the privilege of working and living with some of the most talented, passionate, and socially engaged artists I know who strive to make the city's cultural landscape more inclusive, vibrant, and sustainable.
How did Goucher prepare you for your career?
Goucher is a place where ideas are heard and hard work is expected. It helped me to establish personal deadlines and provided me with my first grant-writing, exhibition, and journalism experiences. My Goucher peers were similarly driven, creative, and successful in their own pursuits and continue to be supportive of one another.
What is your most vivid Goucher memory?
I beat Sandy Ungar at Scrabble in India (He may still deny this). But mostly, pulling all-nighters with my friends to finish homework, artwork, and the magazine we founded and edited while we were at school called The Goucher Review.
How do you stay connected to the college?
I still attend exhibitions at Goucher's Rosenberg and Silber galleries and keep in touch with many of my professors. This summer I had a solo exhibition on campus (Plastic Images at Rosenberg Gallery) and was excited to see many members of Goucher's community in attendance.
Be sure to visit the Nudashank gallery in Baltimore, and check out alexebstein.com