Students and alumnae/i help hurricane relief efforts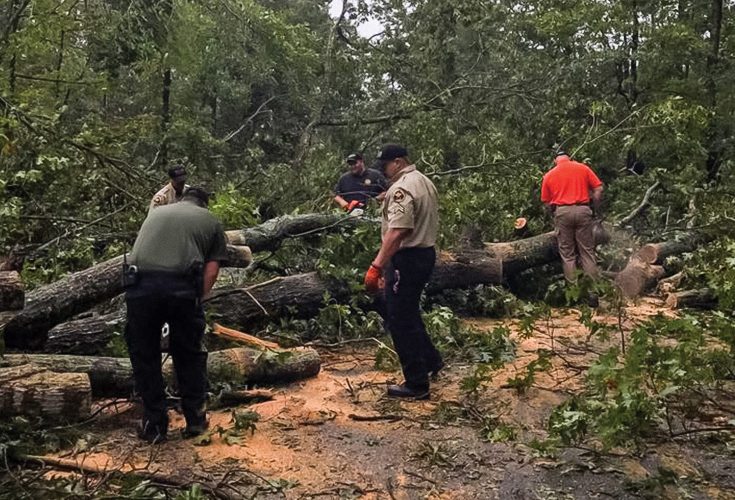 Being a first responder isn't the type of job from which you can take a vacation, and when junior Duncan Miller '18 saw the projected path Hurricane Irma was on in September, he reported for duty with the Habersham County Sheriff's Department in Georgia even though classes on campus were well underway.
"Our duty is to keep the people of the county safe," said Miller. While responding to nonstop emergency calls as the storm hit Georgia, Miller worked to help clear fallen trees that blocked roads and had fallen on houses. "You would finish one [emergency call] and go right to another," he said.
Miller had taken a semester off his sophomore year to attend the police academy and become a reserve deputy sheriff after deciding he wanted to pursue a career in law enforcement. He now works full time during his summer and winter breaks for the sheriff's department.
When asked about managing his studies and his duties as an officer during a natural disaster, he quickly replied, "It was a great response from my professors and the dean's office. It was something very unique. If I was in class with 200 people, it would be a very different response."
While at Goucher, Miller is studying sociology and peace studies, is co-president of CERT (Community Emergency Response Team), and is a member of the swim team. He praised Division III sports and the organization's student-oriented,flexible approach for helping him to juggle the demands of being a student, athlete, and deputy. Miller also credits his studies at Goucher and the school's focus on communication for being helpful to his career in law enforcement. "The vast majority of the job is talking to people and seeing what you can do to make their day better."
Miller wasn't the only one helping out during the recent hurricane season. Jenna Way '12 and Hannah Locke '13 worked together virtually to help provide supplies to those in need.
Originally from New Orleans, Way knew firsthand the destruction and devastation a hurricane can bring. Hurricane Katrina affected family and that experience greatly impacted her, when Hurricane Harvey hit Houston earlier this year she knew "this was the time to return the favor."
Way, now a sixth-grade teacher at KIPP Believe College Prep in New Orleans, saw that her friend and fellow Goucher alumna Locke was organizing relief efforts on social media. Locke lives in Houston and is studying for her Ph.D. in ecology and evolution at the University of Houston. While not directly impacted by the storm, she wanted to help the local community.
Through shared social media posts and reaching out to other Goucher alumnae/i, Locke and Way worked together to raise more than $2,000 in relief supplies.