One Goucher family across many generations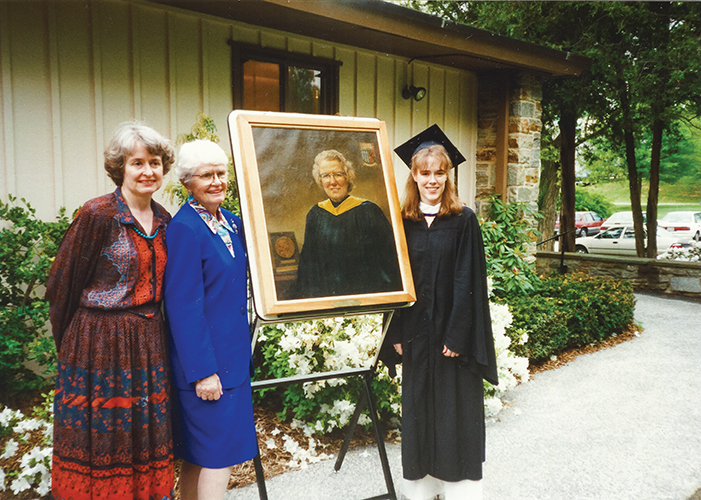 By Tara de Souza
Family legacies can take many different forms. Whether they are through tradition or shared experience, from one generation to the next those common threads weave a strong bond.
For Sarah Janecek Lake '96, Goucher is central to the interconnectedness shared between five generations of her family. Her great-great-grandfather was a member of the Board of Trustees in the early 20th century. Wagner House in Stimson Hall is named after her great-grandmother Hester Corner Wagner '20, who served on the Board of Trustees for nearly 20 years and was board secretary for 15 years.
Lake's great-aunt, Nancy MacNaughton Wagner '50, was the alumnae/i director at Goucher for more than a decade. The family's connection to Goucher continued through her grandmother Florence Wagner Mulligan Abshire '43, who was an alumnae trustee in the 1990s, and she and her husband, Alfred, created the Abshire Scholarship Fund, which supports students who are majoring in art therapy, art education, art history, or museum studies.
"I grew up hearing about Goucher from my grandmother," Lake recalls. "She would say, 'The only thing I ask is that you look at [Goucher]; you don't have to go, but please go and look at it.'"
Lake did visit Goucher and was drawn to the small class sizes, the "homey" campus setting, and the faculty and students she met. "I loved the feel of the place. It just felt right."
She entered Goucher with the intent to pursue pre-med, but after taking sociology and criminal justice classes her eyes opened to a completely different world. Lake recalls visiting a maximum-security prison as part of one class, as well as doing a ride-along with Baltimore City police. "Our police car was shot at and I found myself sitting in the back of a police cruiser at 2 a.m. wondering what I was supposed to be doing."
Then, as part of a pre-med requirement, Lake did an internship at a local hospital's shock trauma unit. "It hit me that I didn't want to be on the medical side, I wanted to be on the emotional side."
She switched majors, focusing on biology and psychology. She credits her teachers, and Goucher's liberal arts tradition, for giving her the opportunity to explore topics and ideas that she hadn't before.
"It was the first time I had discussions about my thoughts on the material and not what was the right answer. It was eye-opening and fantastic."
Lake continued her education at the University of Chicago, where she earned her master's in social service administration and is now a middle school social worker.
Lake's mother, Susan Mulligan Janecek '66, also has strong connections to Goucher. Susan was a French major at Goucher for two years before transferring to Northwestern to pursue a Russian Studies major with a different focus than Goucher's.
"She still talks with a few friends from Goucher," says Lake. "She feels bad that she broke the family's graduation lineage!"
Both Lake's mother and grandmother told her about Goucher's message of empowering women to do whatever they wanted. "I appreciate that Goucher and Dr. Bowen continue to take a stand on important issues. That is important to me."
Lake's family ties to Goucher grew after graduating from Goucher when she married her husband, Marc Lake '95, who is a pharmaceutical research scientist. The two met at Goucher as Biology Department TAs and were married in the Haebler Memorial Chapel by former Goucher Chaplain Bill Rich. Marc's brother, Ross Lake '98, also is a Goucher graduate who studied biology, and he now works at the National Institutes of Health.
The Lakes now live in the Chicago area with their two children. A portrait of Hester Corner Wagner that originally hung on campus in Wagner House now adorns a wall in their home.
Even as buildings on Goucher's campus have been moved and new buildings erected, Lake feels Goucher still offers everything that drew her to the college—broad liberal arts curriculum, socially progressive ideals, and a strong sense of community. "Just as my grandmother said to me, we say the same thing to our daughter: 'Just go look.'"