Steve Speicher '10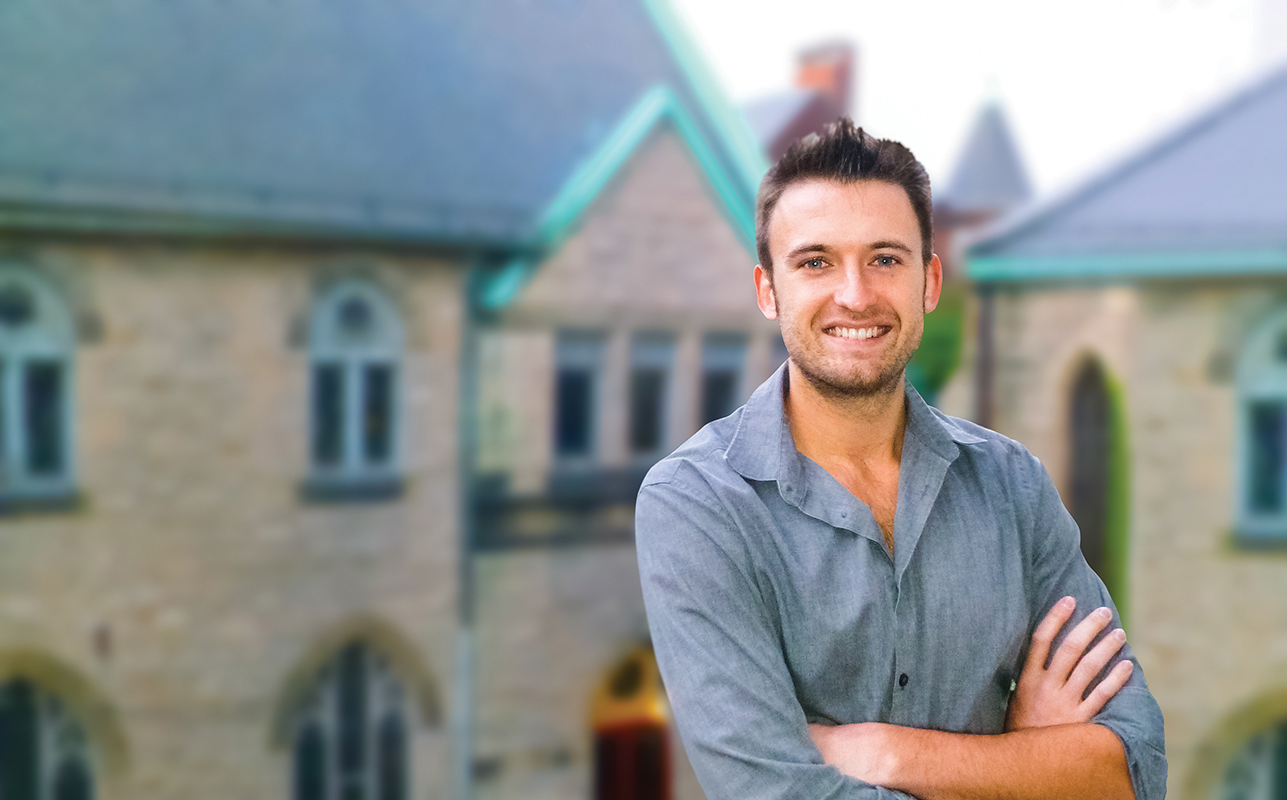 For Steve Speicher '10, the idea that everyone can contribute is powerful.
Steve Speicher '10 never planned to get into property management. But about a month before he graduated from Goucher, he needed a job and a Goucher alumna referred him to the Charles Towers, a dual high-rise property in downtown Baltimore—and he was hired. "I was living in Baltimore and commuting to Goucher during my senior year, and, originally, I thought of it as a way to pay my rent," he says.
Five-plus years later, what began as "just a job," has become a career. And the funny thing is the communications and sociology major who never dreamed he'd go into property management, frequently uses skills honed as an undergraduate to solve problems at work. "I studied communication, psychology, and anthro, and people will often assume I don't use any of that, but it is completely the opposite," he says. "I didn't study property management, but what I did study has helped me excel in the workplace."
Speicher is the assistant leasing manager at the Charles Towers, which is owned and managed by Southern Management Corporation and, as one of downtown Baltimore's largest mixed-use properties, houses more than 400 apartments, as well as many retail businesses such as a dry cleaners, food court, and grocery store.
Sometimes, when helping clients who have just moved to the United States from another country, Speicher recalls how he felt when he moved to Australia, as part of Goucher's study abroad program. "I can empathize because I remember what it felt like when I moved to Sydney on my own," he says. "Sometimes you just need someone to explain things to you."
At other times—during the summer months when 30 new residents may move into the building in as many days—the Pittsburgh native relies on organizational skills he picked up while a student.
"It's really about managing volume, creating a schedule, and staying on top of it," says Speicher, who, as an undergraduate, sat on Goucher's orientation committee, student government executive board, student health advisory committee, and the leadership council; participated in Playworks, a theater festival that features student-produced works; and worked on the college's phonathon.
While not at the Charles Towers, Speicher, who from 2010 to 2013 served as the recent graduate trustee on Goucher's Board of Trustees, participates in as many community events as he can—from tree plantings to neighborhood professional networking events. From time to time, he stops back on Goucher's campus, recently serving on a panel of young alumnae/i who spoke about philanthropy.
The phonathon opened his eyes to the power of giving back, he says. "'I'd call alums who would say 'Oh, I can't give right now,' and, as a young alum, I completely understand that. But I still feel it is important to give back. I can't do it alone, but the idea that everyone can contribute is really powerful to me."