Q&A: Monica Pope '85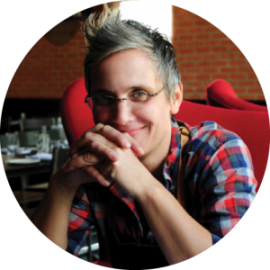 Chef and Owner of Sparrow Bar and Cookshop
Goucher Magazine: Briefly describe your career (what you do, where you do it, why you do it).
Monica Pope: From Goucher College, I worked for a year in the kitchens of The Belvedere Hotel and saved money to backpack around Europe for 3 years. I opened my restaurant in Houston, Texas, my home, in 1992, having said when I was 17 I was going to open a restaurant and change the way Houston eats. I have been given credit for inspiring and realizing a local food scene in Houston.
What has been your biggest professional accomplishment?
I've had lots of career awards and accolades such as Beard Awards and F&W Best New Chef award but my greatest career achievement will be my memoir (memories, stories of the last 53 years) called Eating Hope.
Personal accomplishment?
My daughter, Lili.
How did Goucher prepare you for your career?
My major at Goucher was English Lit with an emphasis in creative writing. I got honors on my thesis. I use that degree everyday!
What is your most vivid Goucher memory?
My most vivid memory is making bread in the dorm kitchenette, cottage cheese and pizza, and drinking toasted almond liqueur by the stables!
How do you stay connected to the college?
Lots of Goucher girls down here keep me in the loop.
When in Houston, stop by Sparrow Bar. Elsewhere, follow @monicapope on Twitter.