Promoted to employee, no application necessary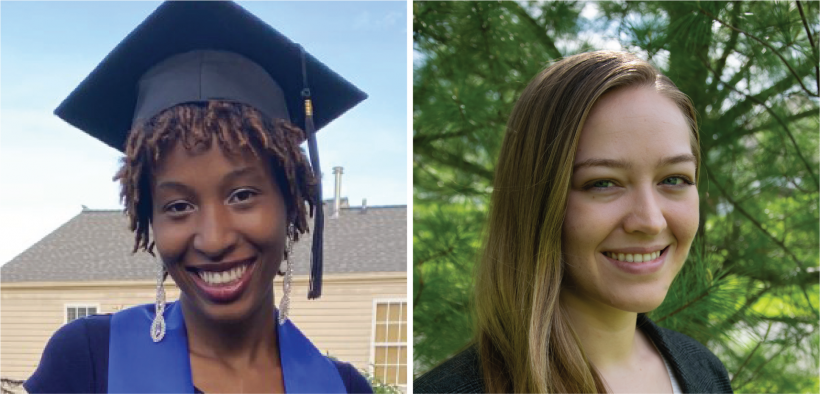 Two 2020 graduates accepted job offers at a law firm and video production company after successful internships.
By Natalie Eastwood
Most students don't begin a college internship expecting a job offer. Gabi Umstead '20 and Danielle Clapperton '20 were two of this year's exceptions at Goucher College.
When Umstead started her internship with Whitaker Legal (a small law firm in Towson that focuses on immigration law, family law, and estate planning), her new boss told her it wouldn't be the typical coffee-carting, printer-savvy role of an intern.
"When they told me, 'You're going to be working with clients within a couple of weeks,' I was completely terrified," Umstead says. As an international relations major, Umstead didn't have any legal experience. By March, Umstead was working on her first solo case, from quarantine no less. That included creating peoples' petitions, which often meant interviewing them for their declaration, or their story.
Before her internship, during her senior year of college, Umstead didn't know what she wanted to do, which was unusual for her. Since the 10th grade, Umstead had wanted to be a foreign service officer, the advisor to political executives who help a country create foreign policy. She's been to Germany twice, traveled around Europe, and can speak German conversationally, so moving abroad wasn't the problem. But after meeting several people in the field, Umstead realized this career wasn't what she expected or wanted.
Without a plan and less than a year until graduation, Umstead went to Julie Elliott in the Career Education Office. Elliott helped her think about some other options. Fast forward several months, and Umstead was wondering how to approach her boss about a job in the law firm. Umstead reached out to Elliott again for advice. "I honestly credit my whole job to her," Umstead says, "and I know she'll say that it was all me, but she was so helpful."
Based on Elliott's advice, Umstead virtually met with her boss, who surprised her by asking, "What are your plans for the future? What do you want to do?"
"Actually, I really just want to work with you," Umstead told her boss. Now, Umstead is a legal assistant and works with marriage-based cases, which often involve the Violence Against Women Act (VAWA). While working at Whitaker Legal, she hopes to attend law school within the year and pursue immigration law.
Clapperton experienced something similar. As the first and only animator at Wide Angle Youth Media and Productions, her company didn't want to lose her. So, they hired her.
Wide Angle Productions produces professional videos and digital content for Maryland universities, health care providers, and businesses; Wide Angle Youth Media is a nonprofit that mentors Baltimore youth in producing documentaries, photography, and graphic design projects. Clapperton, a studio art major, is a mentor to high school students in the apprenticeship program as well as a multimedia producer (video production, animation, and graphic design). One of Clapperton's current projects, which helped her secure the job, is an animation to educate people about the socio-economic disparities of pediatric asthma in Baltimore City. Creating health care communications has become Clapperton's passion.
"And at Wide Angle, we work on a lot of projects that relate to health care or relevant social issues. So being able to create while also making a change or educating people is definitely my favorite part of the job," Clapperton says.
For Clapperton, educating people about mental health is especially important. In her last year at Goucher, she was diagnosed with bipolar disorder. Clapperton is open about her mental health, which ultimately resulted in her interest in psychology; in her free time, she reads dissertations on psychological conditions. Clapperton plans to return for her master's degree in visual education and psychology. After that, she intends to go to medical school for psychiatry. Ultimately, becoming a psychiatrist is her goal, but she wants to keep educating people about mental health through videos and animation.
Clapperton is aware that to receive a job offer before graduation is exceptional, especially during a pandemic that has left so many unemployed.
"When I was offered the full-time position, I was just so excited because I know stepping right out of college with a job is definitely a privilege that a lot of people don't have," Clapperton says, "so I'm definitely grateful and just excited."
Help future students by sharing job postings and other opportunities from your place of employment with the Career Education Office.
(Photo at top): From left, Danielle Clappteron '20 and Gabi Umstead '20