President Bowen joins thought leaders at SXSW EDU 2019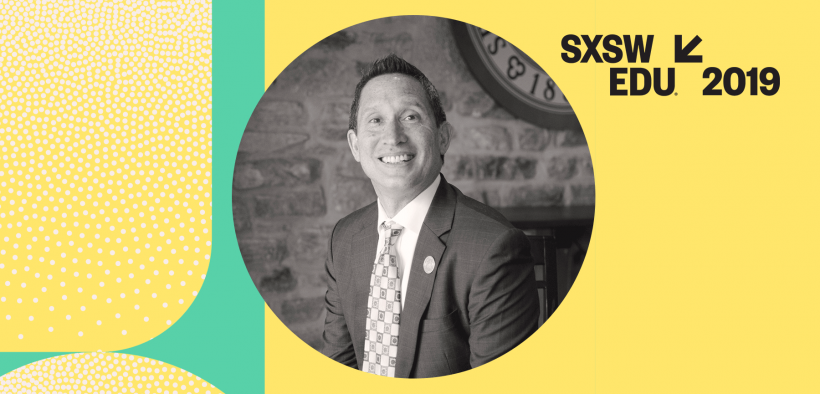 By Tara de Souza
Last month, Goucher College President José Antonio Bowen joined thought leaders from across the nation at SXSW EDU 2019, a prominent teaching and learning conference.
With presenters ranging from The New York Times columnist David Brooks and former Florida Governor Jeb Bush to March for Our Lives co-founder David Hogg in conversation with Dan Rather, speakers engaged with thousands of participants during the multi-day event in Austin, TX.
Bowen's talk, "Preparing Students for the New Learning Economy," explored creating a new model of education where students become self-regulated learners capable of continually learning new things and reflecting on their experiences to adapt to additional information.
"Learning is about change. We are literally rewiring the brain when we learn something new," Bowen said in his presentation. "Learning is not just the accumulation of stuff; it is about what you do with that stuff."
The event focused on many topics that Goucher's administration and faculty have been working on over the past few years, including creating more equitable access to higher education, connecting the curriculum to careers, and enhancing student support services.
Bowen highlighted Goucher's new curriculum and how it is designed to prepare students to solve complex problems in groups across disciplines. Each aspect of the new curriculum—the focus on new course design, as well as the writing, data analytics, and Complex Problem Exploration (CPE) requirements—all contribute to supporting and creating self-directed learners.
"The person who does the work does the learning," said Bowen, who emphasized the learning science underscoring that thinking. Goucher's 3Rs—relationships, resilience, and reflection—were also stressed as integral to developing lifelong learners. "Smart is not the person who knows the most," Bowen said. "Smart is the ability to change in the face of new information."
The importance of Goucher's recent innovations on campus, including in Mary Fisher Hall, which houses a new dining facility and student engagement and support services, as well as the First-Year Village that was designed to nudge students to interact and build community, were also woven into the discussion.
"The learning experience has to be enhanced with everything we do on campus," Bowen concluded.
Listen to President Bowen's full SXSW EDU 2019 talk on SoundCloud.
Illustration by Ayumi Yasuda, photo by Rob Ferrell