Jill Sisson Quinn M.F.A. '08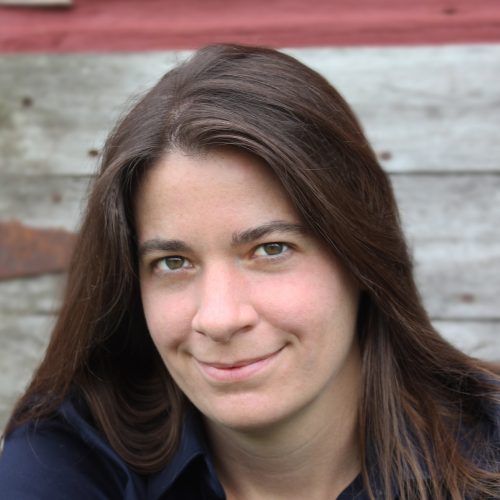 By Molly Englund
Jill Sisson Quinn M.F.A. '08, like many of the writers who have gone through Goucher's Creative Nonfiction Program, was fairly established in her writing career when she came to graduate school. While working as a high school English teacher, she had published several personal essays that dealt with developing a sense of place, one of which won an Annie Dillard Award in 2003. But she'd always wanted to go through an M.F.A. program.
An essayist who blends nature writing with memoir, Quinn knew Goucher had a prominent program. She was especially drawn to it after reading then-faculty member (and current CNF Director) Leslie Rubinkowski's personal essay "In the Woods." She also liked the fact that the program was low-residency, so she could still teach full time.
Quinn went in with low expectations, however. It was 2006, and the idea of attending graduate school remotely for part of it was uncharted territory. But from the first summer residency, she was hooked. The program director at the time, Patsy Sims, always encouraged students to stop by and give their thoughts on the program. "I stopped by—and that's not something I normally do. But I remember telling her, 'Wow. This is beyond the value I ever could have imagined.'"
For Quinn, part of that value was in the Goucher network and learning how to have a writing routine. From the first day, her cohort was networking with instructors and alumni—and it hasn't stopped. "It's opened so many doors for publications to write for, blogs, public radio … Just from people that know I'm a Goucher grad, and they're a Goucher grad. The networking has been wonderful."
And then there's the writing life; "what it means to set aside time every day," Quinn explains, "even if you're just staring at a blank page, and to actually produce something, to be serious about it. [The program] changed me in that way." As Quinn was working on her thesis manuscript, her writing routine took shape. During the summer months away from teaching, Quinn got up in the morning, walked almost seven miles with her dog, and then wrote for several hours.
Much has changed since she graduated in 2008. Quinn, who lives in Scandinavia, WI, published her book of essays, called Deranged: Finding a Sense of Place in the Landscape and in the Lifespan. Her essays have also been published far and wide, including in Orion Magazine, The New England Review, and The Good Men Project, and have been reprinted in Best American Essays 2016 and Best American Science and Nature Writing. She was nominated for a Pushcart Prize and has won the Rona Jaffe Foundation Writer Award and the John Burroughs Award for Most Outstanding Natural History Essay. Currently, she teaches writing at Mid-State Technical College.
Her writing life has evolved over the years, as well. The long summer walks are no longer sustainable, as the dog is older, and Quinn and her husband now have a child. Nap times are the new writing times. Her thoughts have turned from sense of place to identity and kinship, and she's published a few essays on the topic.
In her writing, Quinn makes effortless connections between her own life and her observations of the natural world. "I tell my students it's my superpower," she says. "It's basically useless, but I can make metaphors … It's something that I can't stop doing."