Jaime Bogardy '08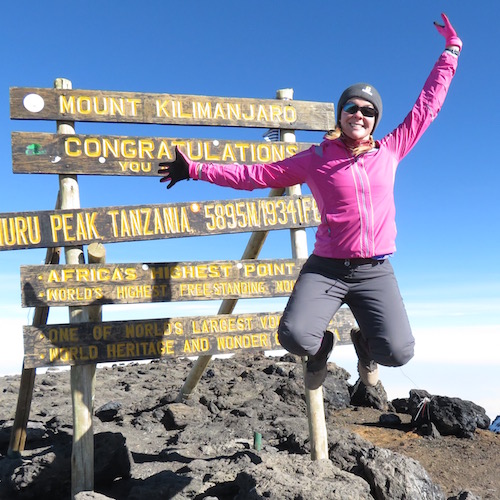 An alumna finds her niche on the side of a mountain
F
or her 30th birthday, Jaime Bogardy '08 wanted to do something for herself. For her,
that meant climbing to the summit of Mt. Kilimanjaro in Tanzania, 19,341 feet above sea level. She climbed the 45-odd miles in eight days, reaching the highest elevation she had ever been. (Bogardy has climbed almost half of Colorado's 54 "fourteeners," or mountain peaks reaching elevations of 14,000 feet.) She didn't know anyone on her guided tour, but soon they were laughing, yelling out new inside jokes, and devouring avocados and macharali, a banana stew. Ten years ago, when she was an undergrad at Goucher, she never could have predicted such an achievement. But looking back, 10 years ago is exactly when she set down the path that would lead her up the side of mountains.
In 2006, Bogardy's cousin invited her to come rock climbing at a local gym. She had fun, even though it was challenging.
"The very first night that I was leaving the gym, I couldn't grab the top of the steering wheel with my hands," she says. Her arms were in so much pain she had to drive home propping her arms on her thighs (not as dangerous as it sounds, she promises). But it didn't scare her away. "I was instantly hooked," Bogardy says. She laughs now remembering how easy that first climb really was.
Her cousin's invitation eventually led to Bogardy starting her own business, Chimp Crimps, which turns stuffed animals into chalk bags used for rock climbing. Sweaty hands—caused by fear as much as exertion—are a no-go for gripping, so climbers strap a bag onto their backs, dipping in to the loose chalk to stave off slipperiness.
The idea came to Bogardy while she was still a college student and starting to get more serious about climbing. There are only so many choices for safety equipment, but it was the accessories that disappointed. "I felt like there was a huge lack of creativity and self-expression. All the bags were blue and black canvas, and I just thought they were lame," Bogardy says. So she decided to make her own. "I took one of my old stuffed monkeys and turned it upside down and made it into a chalk bag," she says. "It took me eight hours to make—which was absolutely crazy— because I didn't know what I was doing."
During the rest of college she worked birthday parties at a climbing gym in Timonium. After college and a master's degree from the University of Colorado, she used the $170 she'd saved in tips from the job to start Chimp Crimps. Most of the chalk bags she makes are upcycled, using donated and thrifted stuffed animals. She also makes brand new ones to sell to climbing gyms, and will make custom ones with a client's own stuffed animal.
As for her own chalk bag? In the past, she would alternate between a few. But now she only uses a little red owl with patchwork. "When I made those," she says, "I just thought they were adorable."
On top of running her own business, Bogardy also directs the REEL ROCK
Film Tour, bringing climbing films to live audiences around the world. "Everything
I have to do with is [about] rock climbing," she says. It's a good spot to be in—there are so many more mountains still to scale.
—Molly Englund