Impromptu: Kimberly Bambarger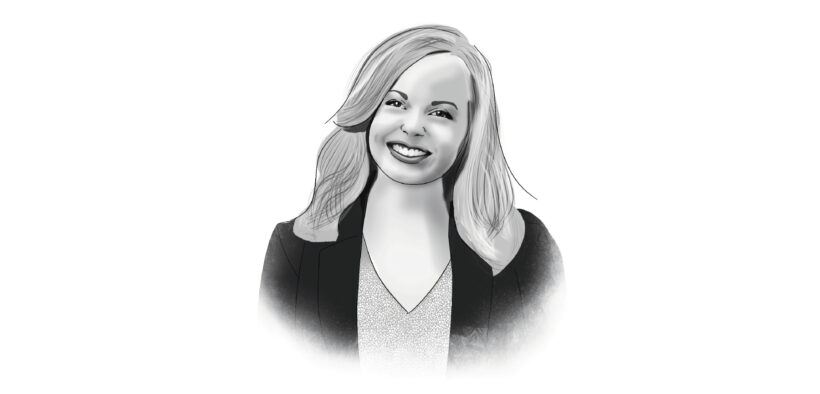 Kimberly Bambarger is a mental health counselor in the Student Counseling Center who completed her clinical training at Goucher College.
By Molly Englund
Tell me about your academic journey.
I went to Towson University for undergrad. I was pretty confident as an incoming freshman that I wanted to study psychology, so that was my major, and I minored in family studies, and that was pretty consistent throughout my undergrad. I never thought about changing my course of study. I really enjoyed it, and I did a few internships and volunteer work while in undergrad. I took four years off after undergrad and worked in two different jobs, one in clinical and one in clinical research. And it was during those four years that I decided therapy was the right career within psychology that I wanted to do.
So I went to grad school at Towson again, and I did their clinical Psychology Master's program. I did two years of training and work there, and then I had to do a clinical internship. I did that at Goucher, and I graduated last May. I'm pretty new out of school, and I think that's the end of my academic career. But I am still thinking about a Ph.D. or some other further education.
What kind of clinical research did you do?
I worked at University of Maryland in their Department of Neurology, specifically studying Parkinson's and rare movement disorders. I studied dystonia, which is a rare movement disorder, and there are some genetic explanations for it, but it's not very well understood. It's treated with Botox, and I would recruit participants in our Botox clinic for that study. With Parkinson's, we did some longitudinal observational research, but we also did some clinical trials on some experimental treatments. It wasn't really related to psychology other than some psychogenic movement disorders, which are really interesting—ones that couldn't be explained from an organic cause that were a trauma response or a psychological response. Some people would have their arm clenched up and couldn't release it for any reason. I did that for two years, and I led a lot of clinical trials and got published in a lot of papers, too, which was neat.
What led you to focus on therapy?
Before doing clinical research, I worked at Hopkins' adult psychiatric rehab program, and it was pretty intense. It was a day program for people who struggled with severe psychopathology. I was pretty burnt out from that job, and it deterred me from therapy. That's why I decided to do clinical research for a bit; I wanted to get away from clinical work to see if I would miss it. And when I worked at University of Maryland, I really enjoyed doing research, but I felt like there was a lack of fulfillment in my job, day-to-day.
I realized that lack of fulfillment came from missing the clinical side—being there as a support for people, helping them with their goals. Once I took a step away from Hopkins and realized that there were other jobs I could do in mental health, that helped make that decision.
I was pretty nervous going into grad school because I wasn't completely set on therapy. But after a couple months, I was like, I made the right decision.
What is your role at Goucher?
I'm a mental health therapist for the Student Counseling Center. I do therapy with the students here; that's probably 80% of my job, and the rest is mental health programming. I love doing therapy, but I'm also really passionate about psychoeducation and decreasing stigma around mental health, especially in the college population. We spend a lot of time programming for things like National Eating Disorder Awareness Week, Women's History Month, and Black History Month about the mental health in those communities, and in the LGBTQ community as well. We do a lot of programming around transitions in the beginning of the year and for finals week.
What is satisfying about your job?
In doing therapy, people surprise you in some really good ways. The best part of my job is seeing those moments of growth with clients and sharing that with them. It doesn't happen every day; it's not like sessions are magical and great every single time, but when you have those moments with students where they either realize they're learning themselves better or they feel like they're equipped to handle what's going on by themselves, it's the best feeling in the world. The second-best part of my job is the community. I love working in a small team and having the ability to network with other people. It feels like a small world that I work in, and I really appreciate that.
What are some challenges you encounter?
With anybody starting their career, there are some road bumps that they experience, and I think staying confident and dealing with imposter syndrome is my biggest challenge right now. I feel so supported, and the people I work with are so humble; I'm appreciative of that.
Are there unique challenges for today's college students?
Sociopolitical issues are really impactful, specifically to college students. They're challenged a lot with not only what kind of careers do they want to go in but also how to realize their aspirations to change the world. And that's amazing about our Goucher students, but it's stressful, too, and adds a lot of pressure and discomfort.
Why do you have a passion for working with young adults?
It's such a transformational, important stage in life. When I was growing up, it wasn't really thought of in that way; it was just the point in time where you figure out what you want to do with the rest of your life. That in and of itself is overwhelming.
There's a lot of opportunity for personal growth and challenging some of the assumptions that we were raised with. And there are a lot of family challenges that come up at this age in addition to personal stuff. I think it's one of the most important times to seek therapy, if that's something you're interested in, and have support along the way for the transitions that happen around this time of life.
What do you do for your own well-being?
I go to therapy. I'm a huge advocate for a therapist going to therapy. I think that it's a part of not only your personal health but also professional development. I also love yoga. I've been a yoga teacher for two years now, but I've practiced yoga for about 10. That's a way in which I unwind and come back to myself. I love hiking, camping, solo trips, and things like that.
One thing that's interesting is how being a therapist affects your personal life and your life outside of work. We see the world and people and everything through a psychological mind. And sometimes that can be interesting and cool and good, but sometimes it can be hard, especially when it comes to family. I''s hard to take the therapy hat off sometimes. That's an interesting thing to talk about with other therapists: ways in which they take their hat off or how they turn off their psychology brain and turn on a different side of them. It's still something I'm trying to navigate.