New & notable books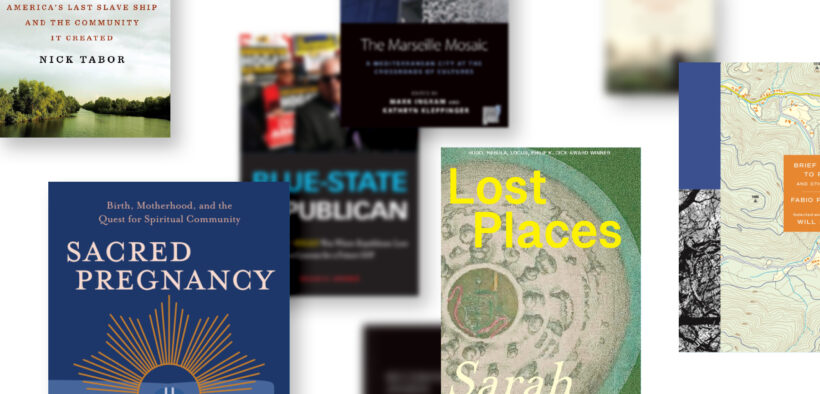 Recent books from the Goucher community
*
The Migrant Chef: The Life and Times of Lalo García, by Laura Tillman, M.F.A. '13
W. W. Norton & Company
Born in rural Mexico, Eduardo "Lalo" García Guzmán left with his family for the United States when he was a child, and he worked in Atlanta restaurants as a teenager before being eventually deported. Lalo landed in Mexico City as a new generation of chefs questioned the hierarchies that privileged European cuisine in elite spaces. At his acclaimed restaurant, Máximo Bistrot, he began to craft food that narrated his memories and hopes. The Migrant Chef offers a window into a family's border-eclipsing dreams, Mexico's culinary heritage, and the making of a chef.
*
Lost Places, by Kratz Spring 2023 Writer-in-Residence Sarah Pinsker '99
Small Beer Press
A half-remembered children's TV show. A hotel that shouldn't exist. A mysterious ballad. A living flag. Nebula and Hugo Award-winning author Sarah Pinsker fills her second collection with stories that unite behind certain themes: Her touchstones of music and memory are joined by stories about secret subversions and hidden messages in art. Her stories span and transcend genre labels, looking for the truth in strange situations from possible futures to impossible pasts.
*
Africatown: America's Last Slave Ship and the Community It Created, by Nick Tabor, M.F.A. '13
St. Martin's Press
In 1860, a ship called the Clotilda was smuggled through the Alabama Gulf Coast, carrying the last group of enslaved people ever brought from West Africa. Five years later, the shipmates were emancipated but had no way of getting home. They created their own community outside Mobile, a story chronicled in Zora Neale Hurston's Barracoon. That community, Africatown, has endured but struggles to survive. After the discovery of the remains of the Clotilda in the riverbed nearby, a renewed effort is underway to create a living memorial to the community.
*
Sacred Pregnancy: Birth, Motherhood, and the Quest for Spiritual Community, by Professor of American Studies and Religion Ann Duncan
Fortress Press
Ann Duncan explores a new form of religious community: a growing number of diverse movements that blend business with a spiritual approach to the reproductive health of women. This new mode of spiritual ritual is centered not on a particular conception of the divine but on the shared experience of pregnancy and birth as sacred rites of passage. These spiritual birth movements are an invitation to further investigate and understand the life-changing experiences of pregnancy, birth, and motherhood and the desire for religious ritual in the lives of American women.
*
Brief Homage to Pluto and Other Poems, translated by Director of Goucher College Young Writers Camp Will Schutt
Princeton University Press
Brief Homage to Pluto collects 45 poems by Fabio Pusterla, one of the most distinguished Italian-language poets writing today. These are poems of disquieting Alpine landscapes and rift zones, filled with curious fauna, lanced with troubling memories, built "from the bottom, from the margins, from outside" the mainstream. Selected and translated by award-winning poet Will Schutt, this volume draws from Pusterla's six most recent collections. With English translations and Italian originals on facing pages, Brief Homage to Pluto introduces one of Europe's most imaginative and humane poets to English-speaking readers.
*
Becoming Jihadis: Radicalization and Commitment in Southeast Asia, by Associate Professor of Political Science and International Relations Julie Chernov Hwang
Oxford University Press
Why does someone join an extremist group? Why does someone participate in acts of terrorism? Drawing on interviews with members of Islamist extremist groups in Indonesia and the Philippines, Becoming Jihadis answers these questions by exploring the socio-emotional underpinnings of joining an extremist group. This book argues that social ties play a critical role in the joining process. It unpacks the process by which members build a sense of community, how they come to trust and love one another, and how ideology functions as a binding agent, not a cause.
*
Blue-State Republican: How Larry Hogan Won Where Republicans Lose and Lessons for a Future GOP, by Associate Professor and Director of the Sarah T. Hughes Center for Politics Mileah Kromer
Temple University Press
Two-term Republican governor of Maryland Larry Hogan won his seat after upsetting a favorite of the Democratic political establishment, and then overcame the Trump-opposing wave in the heartland of the #resistance to win a second term in 2018. Blue-State Republican is the story of how his carefully messaged, pragmatic approach helped build a coalition during a time of polarization and negative partisanship. Mileah Kromer takes readers inside Maryland politics to illustrate how Hogan won and whether the un-Trump Republican offers any lessons for how the GOP can win center-right voters.
*
The Marseille Mosaic: A Mediterranean City at the Crossroads of Cultures, edited by Professor of French Transnational Studies Mark Ingram and Kathryn Kleppinger
Berghahn Books
Formerly the gateway to the French empire, the city of Marseille exemplifies a postcolonial Europe reshaped by immigrants, refugees, and repatriates. The Marseille Mosaic addresses the city's past and present, exploring the relationship between Marseille and the rest of France, Europe, and the Mediterranean. Proposing new models for the study of place by integrating approaches from the humanities and social sciences, this volume offers an idiosyncratic "mosaic," vividly detailing the challenges facing other French and European cities and the ways residents are developing alternative perspectives and charting new urban futures.