Creating space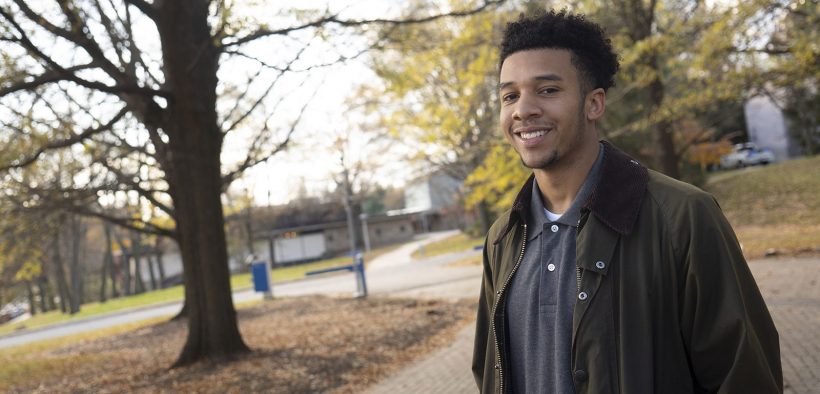 In high school, Julian Dowell '22 wanted to be Huey Freeman—the black revolutionary from the cartoon show The Boondocks. Huey was the antithesis to his ignorant brother, and together they unraveled systemic societal problems under the guise of comedy. Dowell found it profound, and he decided from a young age that he wanted to be Huey.
"Huey was a well-read 10-year-old. He was a radical. He was all about destroying systems." He continued, "It was funny as a 12-year-old to ask, 'Who do I want to be?' … And I wanted to be Huey. I wanted to be well read. I saw him as this young kid who knew so much."
The son of Nichelle Kee-Dowell '00 challenged himself to read books by Cornel West, Michelle Alexander, Frederick Douglass, and Huey Newton. Everything he learned gave him new perspectives. Although Dowell hates calling himself an activist, he tries to provide a platform for those who are marginalized and underrepresented.
Being a black man is inseparable from his identity. "'Black man' isn't something that I can run from. And at no point did I want to run from it," Dowell said. "But it also comes with great responsibility. It comes with a lot of fear. It comes with a lot of anxiety. It comes with constantly looking at my place within society."
It's why Dowell followed his history through the South, touching the crumbling brick walls of not just his past but the struggles and victories of his people's past.
It's why he listens to jazz and blues, the music of his grandparents that is his music, too.
It's why he cried while listening to Billie Holiday's "Strange Fruit" as he reached out to a piece of civil rights history on the other side of a graffitied "no trespassing" sign.
"The beauty of jazz and blues is that it's the soundtrack for an oppressed people, for a group of people who have borne so much trauma and somehow created this beautiful musical expression. They created something that the world can accept, internalize, and learn from," Dowell said. "I think that ability to take pain and suffering and turn it into something beautiful is an essential component of how I choose to live my life."
Dowell lives and sees with intention. "It's important to be observant," Dowell said when he sat down for this interview and stole glances at the list of questions about himself. He's still in the observation phase as he settles into Goucher. He wants to continue the culture of social justice and inclusivity, but he wants to ensure his efforts have the most significant impact. As Dowell knows well, everything has a compound effect.
That's how he got to Goucher, after all. Without the Lorna Mickle Post '52 Dorsey Scholar Fund, he definitely wouldn't be here, Dowell said. And the reason he was selected to be a Dorsey scholar started with his evolution as Huey. Someone saw his potential and helped him get an internship on Capitol Hill as an eighth grader, which led him to graduate-level work with the DC Public School System the summer before his senior year of high school.
Kids in high school knew Dowell as the black radical with a pick in his Afro, the one who read all the time. Dowell had become Huey, but he's still in the process of becoming. He wants to become a consultant for Deloitte, buy some real estate, start two nonprofits, and eventually become a member of Congress.
Dowell said he has too much on the line, too many people who have paved this path for him, to waste a second of the future.
"Whatever I do, I want to make sure I create space for other people like me," Dowel said, "because it's bigger than myself. … I know that I lack. I'm not perfect, but it's something that I keep constant, realizing that all of this is bigger than myself and the accolades. What matters is the work and keeping the people I love at the forefront."