Erin Field finds strength and a smile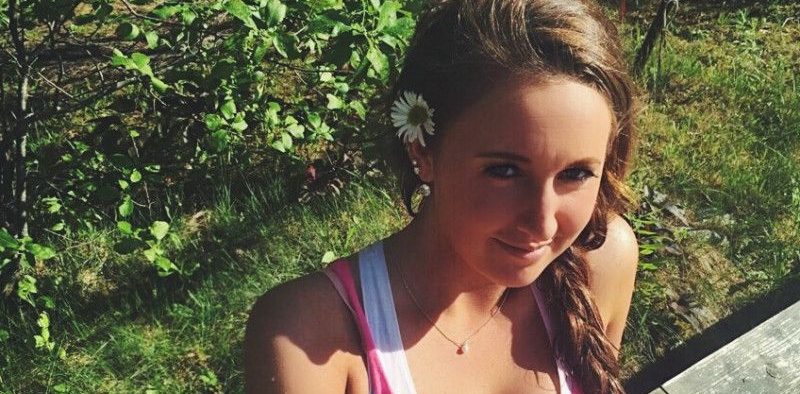 Every morning when Erin Field '18 wakes up, Oakley climbs the stairs to Field's bed and plops onto her chest. Oakley is 30 pounds of love condensed in the wrinkly body of an English bulldog puppy.
"Oakley is awesome. She just makes every day so much better," Field said. "She makes every day different. She's cute and really funny."
Oakley is just one reason Field smiles every day. Ever since her accident on July 11, 2017, Field has made it her mission to stay positive. "Live in the moment," Field said. "You can't plan your whole future. Make every day the best that you can."
Field and her boyfriend were sitting on a hammock strung between a wall and chimney when the chimney collapsed on them. Field doesn't remember the 21 days she spent in the intensive care unit, where her life was a question, not an answer. While on heavy medication, Field's mom explained to her multiple times that she had injured her C6 vertebrae, resulting in paralysis in her legs and partial loss of movement in her arms and hands. The first time Field can remember learning that she would be in a wheelchair, however, was when she read her bio on a GoFundMe account that her little sister, Riley, had created.
"Erin played field hockey and lacrosse in high school, and she played two years of college field hockey," wrote Riley on the GoFundMe page. "She loves to listen to music, laugh, get her nails done, and go shopping (PINK-Victoria's Secret, of course). … Erin is not only my sister but my best friend in the whole world. Erin and I love to laugh and take videos of each other doing stupid and funny things."
In about a month, Riley had already raised $60,000 for her sister. What struck Field the most was how many people cared for her.
Very little has stayed the same since her accident, but the one constant has been the relationships with her family and boyfriend, Jack, Field said. In addition to Riley, Field has three other siblings— Leigh '16, Todd '19, and Tobin. Her mom is now her personal care assistant during the day while Jack is at work.
Field goes to physical therapy three times a week and pushes through additional therapy at a second clinic, where the therapists do more extreme exercises, like standing her on a power plate for electronic stimulation. Oakley goes to these therapy sessions, where she mostly naps and rides in Field's wheelchair. Field is gaining the strength to be able to roll over and pull herself from her wheelchair to her bed. She is also increasing mobility in her hands and arms. Losing the use of her hands has been harder than the losing mobility in her legs, Field said.
But Field isn't afraid of challenges.
In January 2018, six months after her accident, Field returned to Goucher for her final semester. She went from the hospital to school, skipping home altogether. It was strange, she said, to pick up where she left off in a wheelchair. That feeling, however, only lasted a day. Returning to Goucher was what she needed because her friends and classes pushed her to do more, she said.
"You have to make yourself get up and do things, even if it's just going to the mall. It's for the physical and mental benefits," Field said. "It's hard, though, because you want to stay in bed because everything hurts."
Field is constantly looking to do more. She finished her senior year at Goucher as an English major and processed with her class at graduation. "I was really scared the whole time," Field said, because her legs randomly spasm and she was worried they would fall off her chair. Field needn't have worried. Not only did her legs behave themselves, but she was greeted with a standing ovation.
Field is still looking forward. For the next year, she is focusing on her physical therapy and finishing a few Goucher credits. She's also in the process of becoming a peer volunteer at her physical therapy clinic. There were few peer mentors, especially women, in wheelchairs at the clinic, and what she needed after her accident was to talk with someone who had experienced similar trauma, Field said. She hopes to provide a new perspective as well as be a companion for people who don't have frequent visitors.
She already slips into her role as a peer mentor quite easily. Field receives about 20 messages on social media every day from people in wheelchairs. Some are new to the lifestyle and seek Field's advice while others have been in wheelchairs for years and just want to offer Field encouragement.
"Helping other people in my situation is what I want to do," Field said.
She and her brother are creating a website that would sell products that Field finds useful, provide videos of Field's techniques for independence, and offer Field as a personal mentor. Her recent camera purchase will help her to blog her experiences, and she currently keeps a Facebook page, Erin's Journey.
If all this isn't enough to make Field a superwoman in PINK, she also plans to enroll in law school and become a civil lawyer for people with disabilities. The hoops that people have to jump through with insurance companies make life very inconvenient, Field said. It took her three months to receive her shower chair, and the insurance company's response was for her to take sponge baths, Field said. This kind of situation is commonplace. "They do that to everyone," she said.
People sometimes view those with disabilities as bystanders, not participants, in life. "They look at you as someone who is disabled and just going to stay home. That's not true," Field said. "We're still people who want to do all these things. We're still people with dreams."