Building momentum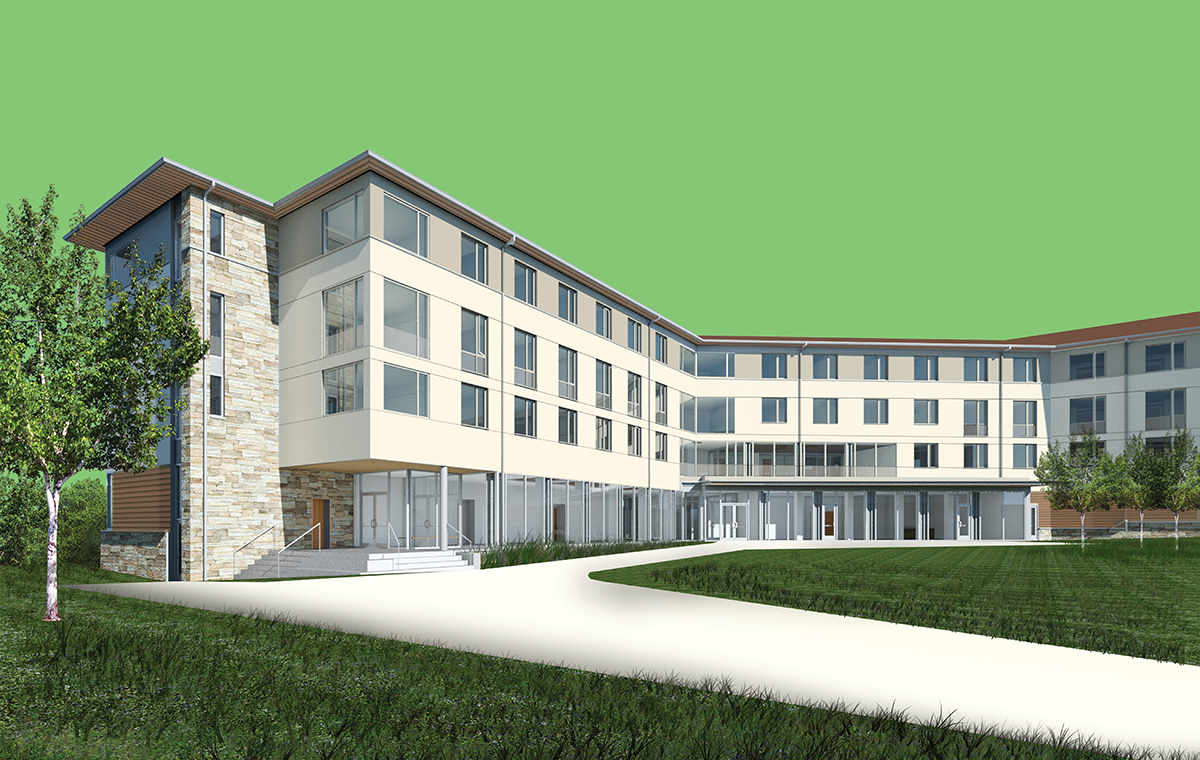 The First Phase of a Sweeping Plan to Transform Campus Is Set to Open
Amid balloons and applause at the second annual Distinguished Alumnae and Alumni Gala in April came a surprise announcement by four generous alumnae who offered resounding votes of support and a financial shot in the arm to Goucher's new first-year residence hall scheduled for completion this summer. Board of Trustees Chair Miriam Katowitz '73, Trustee Lisa Selz '73, Trustee Emerita Margo Messler Winslow '69, and Trustee Emerita Joan Hood Jones '77 have each donated $1 million to the college in support of the project. Their gifts include a matching gift, and bring the total amount raised for the new construction project to $5 million.
The four women are "a model of the spirit and generosity of the Goucher community," President José Antonio Bowen said. "This is a terrific vote of confidence from our trustees and alums for the first-year village. It shows their support for the project, and their support for Goucher, as we pioneer the residential liberal arts college of the 21st century."
Part of a sweeping plan to transform the campus's residential environment, the building, set to open in August, will house almost 200 first-year students, and is designed to maximize student interaction, with spacious common areas, and even apartments for staff and faculty to once again live on campus. That's important, because research shows that the friendships students make during their first year of college will affect their academic engagement, and whether they will continue on to receive their degrees.
In the past, Katowitz said, she has focused her support on the college's academic needs. As she looks to the future, she sees the new residence hall as a critical part of the residential college experience, and of students' overall education.
"There was a need," said Katowitz, "and I want to bring the college up to what I think it can be. It's all about community learning, and that happens in and out of the classroom."
Katowitz was among the many trustees and friends of the college who took a special hardhat tour of the new building in May, ducking wires and peeking into unfinished rooms. Dean of Students Bryan Coker led the way up the stairs. "It's all designed for interaction," he said, pointing out the way students will be funneled through a common area en route to their rooms.
Trustee Ruth Shapiro Lenrow '74 and others tried to guess what the rooms would be when finished—singles, doubles, and common rooms awaiting drywall and carpets. At the door of a double room she quipped "still better than a Stimson triple."
Jones agreed wholeheartedly: The lawyer and former mayor of Manhattan Beach, California, spent her first year at Goucher in Stimson Hall. The memory stuck with her, she said, and not in a good way.
"It's very sterile," she recalled in a telephone interview. "It's not a welcoming place for students." Indeed, when demolishing the building was mentioned at a recent campus event, current students burst into spontaneous applause.
Replacing the building is no simple matter, though. The design of the new residence hall is informed by cutting-edge research into what makes students successful during their first year at college. Providing common areas—including shared bathrooms—pushes students to leave their rooms and interact with others, studies show. The goal is to enable the formation of friendships and a larger campus community.
Professors lived on campus when she attended, Katowitz said, and now they'll return to the residence hall, with two staff and faculty apartments on the ground floor (close to—but a little isolated from—the students' quarters).
The donors hope their contributions will inspire others to give—even after the first residence hall, known for the moment as "Building A," is built, there will still be a need to fund the other two planned buildings.
"It's past time we had a new dorm," said Katowitz. "We need to be attractive to today's students."