Q&A: Dana Kayser '13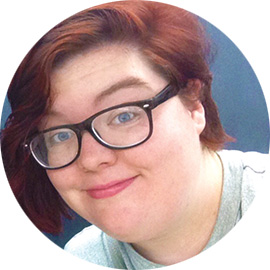 English teacher in Štip, Macedonia, where she is a Peace Corp volunteer
Could you describe your career (what you do, where you do it, why you do it)?
Well, I wouldn't say that what I have right now is a "career" exactly. Since graduating from college, I've been doing stints in various national service projects: A year in the Rochester AmeriCorps, a year in Volunteer Maryland, and I'm currently serving in Peace Corps Macedonia. While I do hope this is the beginning of a larger career in public service, it's still pretty early on.
Like I said, right now I am living and working in Štip, Macedonia as a Peace Corps Volunteer; my primary project is teaching English language in a public primary school, but the amazing thing about Peace Corps is the opportunities provided for you to do as many secondary projects as you like. Finding the intersection of what your passionate about and what your community needs/wants is a really exciting process, and it gives you some great opportunities to build projects from the ground up.
What is a typical day for you?
Because of the secondary projects and the way English is taught in schools there really isn't a "typical day" for me, but there is a basic pattern. I have four to six English classes a day, either in the main town school or the "satellite" school in the local village. I teach grades 1 through 9 and have in total around 400 students. The school I work in is attended by students who are typically more economically disadvantaged than the average of my town, and a large part of my students are of Roma ethnicity (not to be confused with Romanian), which is an oppressed ethnic group found throughout the world with no clear country of origin (better known to many people as "gypsies" but that term is actually derogatory). Because of this, my students definitely have a lower English knowledge level than most of the other students in town. And some of them have the extra challenge of having their entire school day instruction in Macedonian, when their first language is Romani.
After/before school (depending on what time the school day starts that particular day), I will often go to the "American Corner" at the local library to interact with the teenagers who frequently go there. They are pretty fluent in English, and there's always an opportunity to work with them on something a little higher level and is usually very interesting. For example, I just finished doing a workshop with them on what civic participation is and, next week, I'll be doing a workshop on how to write a traditional five- paragraph essay.
During the rest of my day, I work on my secondary projects. I've been researching programs that can be realistically implemented by the school with the support of the "Let Girls Learn" initiative in order to empower young Roma girls to take ownership of their own education. I am also one of the national coordinators for GLOW (Girls Leading Our World) and BRO (Boys Respecting Others) clubs in Macedonia.
Could you describe one memorable day?
Recently our city had the local celebration of Четириесет Маченици, or The Day of Forty Holy Martyrs. My students and left school early to participate in this tradition that only happens in Štip, and I recently found out, is UNESCO-protected. We climbed to the top of the highest hill in Štip, called Исар (Isar), and commemorated the day by making wishes on 40 stones thrown from the top of the hill and shaking hands with 40 acquaintances. Cultural traditions have a strong presence in Macedonia, and they are valued highly and talked about in schools. 
What first attracted you to Goucher ?
Ironically, the Peace Studies program first caught my eye. I say ironically because in my time at Goucher I took a total of one Peace Studies class and spent almost the entire time aggressively arguing with the professor, and now here I am in the Peace Corps. I was interested in the Peace Corps program, but what really got me to look at Goucher for the first time was that it checked all my boxes: small, liberal arts school, pretty quirky, in Baltimore.
Did you imagine you'd be doing what you are doing?
I've always had vague ambitions to join the Peace Corps, but I didn't think that I would fall so hard for national service until I was in my first year of AmeriCorps.
If not, how did you come to this place in your life?
I remember going into AmeriCorps thinking, "Well, if I want to eventually be a part of the education policy-making process, I better put my money where my mouth is and work in a school first." The Rochester AmeriCorps put me in one of their public schools to work as a community partner doing remedial language arts work with students, working with autism-intensive classrooms, and social emotional support for students. That year I saw how a national service project is run for the first time and I read "The Drum Major Instinct" Speech by MLK with a brand new lens. Some of my friends from that service year who also continued down this path like to joke that we "drank the Kool-Aid," but that's a little morbid…
What has been your biggest professional accomplishment?
I don't think it's really happened yet. I mean, there are some things I've done that I have been proud of, but then I think about some of the things that I have a chance to work on right now, and they just blow everything out of the water. The amount of faith that Peace Corps has in our professional competence as volunteers is pretty staggering, and it makes you want to live up to that faith.
Although, I have to say one of the things I am most proud of is the work I did last year with Court-Appointed Special Advocates (CASA) of Prince George's County as their Volunteer Coordinator through the AmeriCorps program Volunteer Maryland. I learned a staggering amount about how a non-profit operates from them, and I was seriously in awe of the work they did for youth in foster care in Prince Georges' County… I think one of my biggest accomplishments would be the volunteer recruitment I did for them, over the course of my year there, I helped recruit and train over 50 new volunteers, and I was ecstatic about being able to do that for them.
Coming up, I am really excited to put some of the things I learned from CASA into practice here in Macedonia. I learned a lot in my time there about trauma in childhood and how that effects behavior and brain development. Next week I am going to be conducting training for other Peace Corps Volunteers as well as native Macedonian English teachers on how trauma can affect a student and how to run your classroom in a trauma-informed way.
What has been your biggest personal accomplishment?
This is slightly cheesy but my biggest personal accomplishment is probably winning the "Spirit of Curling" award from the Rochester Curling club. The Spirit of Curling is awarded to someone who best exemplifies the spirit of the game, namely: good sportsmanship, friendliness and fun. Curling is a really big part of my life, and it was really nice to get the award. 
How did Goucher prepare you for your career?
Well, the study-abroad requirement certainly helped! Living in a foreign country for two years with a different national language is certainly different from a semester in London, but different countries have completely different workplace cultures, and it was pretty easy to adjust to Macedonian culture by thinking of how I had to adjust to British culture.
On a larger scale, Goucher really did teach me how to learn, which is a pretty valuable skill. Like I mentioned before, there's a big opportunity in the Peace Corps to execute something that you may have not had a chance to do ever before, so I find myself becoming more and more self-taught. I see that in a lot of other people here, too. A lot of people's expertise is really valuable because they were self taught, or taught through experience, and I think I wouldn't really know how to approach it if I didn't figure out how I learned best while at Goucher.
What is your most vivid Goucher memory?
Definitely Model Senate and everything that had to do with Model Senate. Not a lot of people know this about me, but I actually had a really hard time in college, mental-health wise. Sometimes when I think back on it, I wonder if it weren't for Model Senate and the people I met through that (including Nina Kasniunas, associate professor of political science and the  staff advisor), whether I would I have stayed for all four years. Goucher was a great school for me, but I needed something that I felt strongly about to keep me going, and Model Senate was that for me. I really feel like it broke me out of my shell. Four years of competing against 99 other college students and being trusted with more and more responsibility can really turn you into a leader—whether you were looking to turn into a leader or not.
Do you stay connected to the college and if so, how?
I have been back at Goucher to volunteer at the High School Model Senate Conference twice since I graduated, and I was able to stay connected through my boss at Court-Appointed Special Advocates, who was also a Goucher alum, for a short time, but being so far away right now makes it difficult. But hey, if there are any Goucher students studying abroad in my part of the world, I would be happy to connect!