Bryce Harrison '12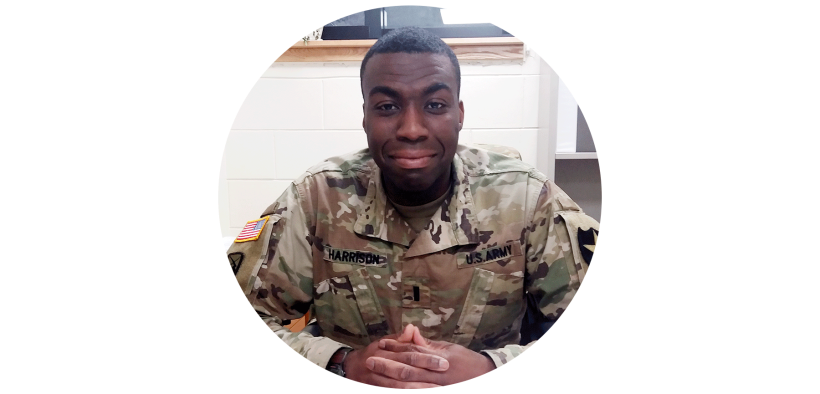 Global service
By Tara de Souza
Traveling around the world has always been a part of the life of First Lieutenant Bryce Harrison '12.
He was born on an Army base in Germany, traveled to Japan with the Boy Scouts in high school, studied abroad in Spain while at Goucher, and served in Afghanistan as part of his active-duty military service.
Now stationed at Camp Casey in South Korea on his second year of his three-year tour overseas, Harrison lives just over 10 miles from the DMZ between Seoul and the North Korean border. "This is where I am needed," he says. As a commissioned officer, Harrison serves as a chemical biological radiological nuclear officer and specializes in defense against weapons of mass destruction.
His military career was not a straight path. While he grew up as an "Army brat" and attended middle school and graduated high school on an Army base, it took him a few years after graduating from college to enlist.
While at Goucher, Harrison decided to join Army ROTC and the Army National Guard but was ultimately disenrolled and discharged for failing to pass the physical fitness tests.
"I failed ROTC, and that made me the person I am today," he says. "I learned from my mistake."
Harrison continued at Goucher and graduated with a degree in political science. After he and his girlfriend broke up, Harrison was adrift. He moved in with Omari Jeremiah '12 and then couch-surfed at other Goucher friends' places across Charles Village. He joined Baltimore Energy Challenge through Americorp, and, still not having luck in the corporate sector, Harrison began to think about joining the military again.
"I needed 'three hots and a cot,'" he says of the Army's meals and barracks. "I wanted to be something. I want to be an asset, not a liability."
After working out and getting into "Army shape," he passed the physical fitness test. His Goucher bachelor's degree allowed him to join the Army as a specialist upon enlistment. He scored high enough on the Armed Services Vocational Aptitude Battery Test to select the type of occupation he wanted to pursue in the Army. He became an information technology specialist.
"I wanted to fix computers. I had tinkered with them as a kid," he says.
He enjoyed basic training at Fort Benning, GA, and after his Advanced Individual Training in information technology at Fort Gordon, GA, he received orders to Afghanistan. Before he left the country, he stopped at Goucher.
Harrison was stationed in Afghanistan for a year in 2015, securing his CompTIA Security+ certificate. In 2016, he volunteered for a nine-month rotational deployment to South Korea, after which he received a promotion to sergeant in 2017. He then attended officer candidate school and, after an intensive three-month training process, was commissioned as a second lieutenant in 2019.
"I used my Goucher degree twice—being promoted to specialist automatically upon enlisting and then using it for being a commissioned o§cer," he says. A person must have a bachelor's degree or higher to become a commissioned o§cer in any of the five branches of the U.S. military.
Currently, he is working toward becoming a captain and would like to go into military intelligence. Harrison has a global perspective and sees himself continuing to live abroad.
He says, "With the military, I can go anywhere."