Kathy Flann Named Finalist of Baker Artist Awards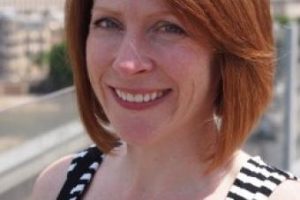 Kathy Flann, creative writing professor, has been named a finalist for the 2017 Baker Artist Awards in the writing category. Run by the Greater Baltimore Cultural Alliance, the awards program reviews portfolios of work and recognizes finalists in six categories. There is a $10,000 prize for the winner of each category, and an additional $30,000 for the overall winner. Over 900 portfolios were submitted for consideration this year.
Flann's recent work includes a collection of stories, Get a Grip, and she is currently working on a memoir about traveling through Europe with her dog.
The winners of the 2017 Baker Artist Awards will be announced on Thursday, May 25, on a special episode of Maryland Public Television's Artworks program, and will also receive an exhibition at the Baltimore Museum of Art.