Goucher College Extends President Bowen's Contract for Five More Years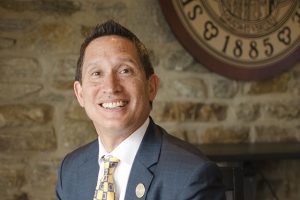 Goucher College announced today that its 11th president, Dr. José Antonio Bowen has accepted a new five-year contract. The new contract will run July 1, 2017, to June, 30, 2022 and will allow him to continue his efforts to redevelop the curriculum, improve campus facilities, advance diversity, and pursue other important initiatives for the renowned liberal arts college.
"The Board commends Dr. Bowen for his collaborative approach and the resulting reinvigorating of Goucher College that is taking place both academically, with the new curriculum and new support for faculty and students, and in the physical plant, starting with the new Pagliaro Selz Residence Hall," said Miriam Katowitz, President, Goucher College Board of Trustees.
Under Dr. Bowen's leadership, Goucher College has been named one of the top 10 most innovative colleges in the country by U.S. News & World Report for two years in a row. Focusing his work to provide greater access and equity in education, Dr. Bowen oversaw the launch of the first-of-its kind Goucher Video Application and recently led efforts to freeze tuition for the upcoming 2017-2018 academic year. Over the past three years, Goucher has also experienced growth in applications and fundraising.
"I am very humbled that the Board has decided to renew my contract and that we can now settle in for the long haul," said Dr. José Antonio Bowen, Goucher College President. "I love how dedicated we are to our students, and I look forward to continuing to work on their behalf."
Dr. Bowen—a national award-winning educator—is a pioneer in active learning and the use of technology in the classroom. At Goucher, Dr. Bowen has integrated the 3Rs into Goucher's curriculum: relationships, resilience, and reflection, which are crucial to students' learning and success in both college and beyond. He is also a best-selling author of Teaching Naked: How Moving Technology Out of Your Classroom Will Improve Student Learning. The anticipated sequel, Teaching Naked Techniques, launches on January 24, 2017.