Goucher College Makes Commitment for Historic Zero Percent Tuition Increase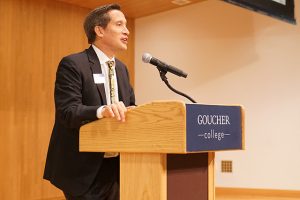 What's the point of an education if no one can afford it? Goucher College wants to change that.
For the first time in the college's history, Goucher will not raise tuition for the upcoming school year (2017-18). The initiative builds on Goucher's long tradition as a leader in liberal arts innovation and in advocacy for access and equity in education.
"Like virtually every college in America, we have been raising tuition every year, for as long as anyone can remember. College is now priced far beyond what most people can afford. Yes, not raising tuition will cost Goucher money, but we felt we had to try and do something. It is clear that higher education cannot continue with a budget model that relies on annual tuition increases," says President José Antonio Bowen. "We are only one college, but I am asking our competitors to join us in not raising tuition. We can make college more affordable."
The average tuition and fee increase for a private, liberal arts college in 2015-16 was 3.47 percent. That is based on 220 private, four-year, liberal arts colleges in the nation.
One of the ways Goucher has improved affordability on campus is through the college's new residence hall in the First-Year Village, which costs the same as as some of the college's more historic halls.
"We did not increase the price to live in our newer residence hall because profiting on segregating students is not part of our ideals," says Bowen. "I understand college is a business, but we also have a mission of improving lives for every student."
The new residence hall, Pagilaro Selz Hall, opened in Fall 2016. It is specifically designed to maximize student interaction, strengthen co-curricular community space, bring faculty back to live on campus, and features that help prepare students for the jobs of the future.
"Goucher is restructuring around a new '3Rs' (relationships, resilience, and reflection) that are the keys to a life of both meaning and success. Employers are looking for graduates who can solve complex problems in diverse groups," says Bowen. "That makes our entire campus a massive classroom. We designed residential halls to foster that learning everywhere."
Goucher's historic zero percent increase in tuition is a natural course of action after new initiatives to increase access through our Goucher Video Application, a new curriculum for Fall 2017 (more information coming soon), and improving the opportunities for living-learning environments for our students. Together, these intiatives will allow more students to graduate on time and leave college with less debt.