Goucher Student Wins Prestigious Fulbright Award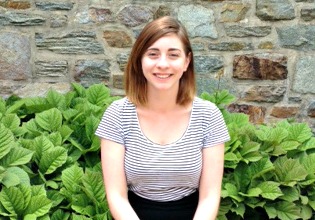 Faith Bailey grew up in rural southern West Virginia with her family and later attended high school in the historic, albeit insular, Appalachian town of Harpers Ferry, WV. When she decided to pursue a college education, she applied to just two schools: West Virginia University, where she would be guaranteed merit-based financial aid through that state's PROMISE Scholarship, and Goucher College, where a friend was interested in going.
Faith and her father came to visit Goucher, took a tour, and were impressed with what they saw and heard. She says she applied just to see what would happen. "I didn't really know about financial aid and that private schools really can offer competitive financial aid packages and federal aid. But I knew Goucher felt right. I was hoping to go here somehow."
She says she was fortunate to receive a financial aid package that made it possible for her to attend Goucher. So instead of studying interior design at WVU, as she had once planned, Faith wound up at a Goucher, where she says she had "a completely different experience from going to a big state school, much different than I expected it would be."
Before coming  to Goucher, Faith says she knew very little about international relations, or politics, or even geography. At the first-year student orientation, she attended a forum in which representatives from various academic departments discussed their disciplines. When Faith saw the presentation by a professor in the interdisciplinary Peace Studies Program, she began to see how interrelated forces such as politics, economics, and foreign policy shape societies and current affairs. She says she was "completely blown away."
She signed up for her first peace studies course, which required community-service work though Help Increase the Peace, a youth conflict-resolution program for elementary schoolchildren in Baltimore City public schools. She says she was hooked and kept taking classes in the department, eventually declaring a peace studies major with an Africana studies minor.
While she really values the academic program at Goucher and the relationships students are able to build with professors, Faith says, "The Peace Studies Department is really what makes Goucher for me. It is an amazing department."
It was Faith's peace studies major—and Goucher's study abroad requirement—that have led to her earning a place among one of the most prestigious higher education awards programs, the Fulbright.
To complete a departmental and college-wide requirement, Faith did the semester-long study abroad program titled "Serbia, Bosnia, and Kosovo: Peace and Conflict Studies in the Balkans" in Fall 2012 during her junior year.
Through the program, a relatively new partnership Goucher forged with the School for International Training, students witness the different realities and points of view regarding the conflict that wracked the Balkans.
Faith's participation in the program was supported by the Benjamin A. Gilman International Scholarship Program, which provides financial awards for U.S. undergraduate students who are receiving federal Pell Grant funding to participate in study and intern abroad programs worldwide.
Then a year later, because of her status as a Gilman Program "alumna," Faith got an email inviting her to apply for the Fulbright U.S. Scholars Program, the flagship international educational exchange program sponsored by the U.S. government. While Gilman alums do get slight preferential treatment in the Fulbright awards process, the application deadline was just two months away (a year typically is recommended for the submission process).
Her advisers in the Peace Studies and Africana Studies programs encouraged Faith to give it a shot anyway. Despite the short time frame, they believed in Faith's prospects as a scholar. At the very least, her advisers said, the application process would be good preparation for graduate school. So, Faith says, "I had to really hammer down."
Faith worked with her adviser in the Office of International Studies and with her faculty mentors to help fine-tune her ideas and begin the formal application process.
She wrote her personal statement, outlined her research proposal, gathered all the necessary paperwork, and amazingly made the deadline. She received an email in January that she was a Fulbright finalist and her proposal would continue to be considered for funding. Then, she says, it was a waiting game. She knew she would be notified within the maddeningly broad time frame of "sometime between February and June."
She tried to put the possibility out of her mind and focused, instead, on the last semester of her undergraduate experience and on not being paralyzed by the question of what next?
In mid-April Faith got an email from the Fulbright National Screening Committee saying she had won a 2014-2015 Fulbright award to travel to Kosovo to conduct a case study of international aid for post-conflict reconstruction, as well as Kosovar perspectives on reconciliation with Serbia.
Faith will leave in September to move to Pristina, the capital of Kosovo, to begin connecting with the Youth Initiative for Human Rights (YIHR), a regional network of non-governmental organizations with programs in Serbia, Kosovo, Croatia, Montenegro, and Bosnia and Herzegovina. Young people from these countries formed this initiative to enhance youth participation in the democratization of society and to establish progressive, post-conflict connections in the region.
She will be interviewing Kosovar people who have traveled to Serbia to carry out YIHR's work to understand their perspectives on Kosovo's peace-building initiatives, particularly youth conflict transformation groups and exchange programs between Kosovo and Serbia.
Faith also will conduct writing tutoring for students of English at the America University of Kosovo and will be applying to write/edit or volunteer for Kosovo 2.0, a magazine that publishes political pieces in English, Albanian, and Serbian.
Both chance and uncertainty played a role in Faith being a Goucher student, a peace studies major, and a Fulbright scholar. She says ambiguity can be a good thing.
"Applying for the Fulbright felt like a really big reach. Although it felt like a crazy idea, I was really supported," Faith says. "I think it's really important to go for those 'reach' goals, but also to remember that one option isn't the only option. It has been a great experience to sit in that 'unsureness' and see what happens."