Unmasked and Reborn: Portraits of Lives in Transition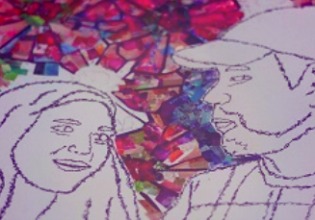 In Unmasked and Reborn: Portraits of Lives in Transition, a new art exhibit at Goucher College, self-portraits exploring personal identity and the faces of homelessness are on display Thursday, May 1, to Saturday, May 10, in the Lenrow Gallery on the fourth floor of the Athenaeum.
These unique self-portraits were made by homeless men of Earl's Place and by Goucher College students. Earl's Place is a Baltimore-based nonprofit that provides transitional housing to men who are homeless and want to change their lives.
After completing a required community-based learning class, four first-year students have continued to build and maintain relationships with Earl's Place residents by visiting them every week and creating art together. Through the artistic process, the men and the Goucher students all are able to focus on self-reflection, self-identity, and second chances.
"Art has great healing powers," said Phaye Poliakoff-Chen, a Goucher College writing fellow and faculty sponsor for this exhibit. "Earl's Place provides remarkable opportunities to formerly homeless men, including housing, jobs, and educational services. Our project provides necessary self-expression to these men."
The exhibition, which is free and open to the public, is available for viewing 9 a.m. to 5 p.m. Contact Alyssa Applebaum '14 at alapp001@mail.goucher.edu for more information.