Busy Student, Big Title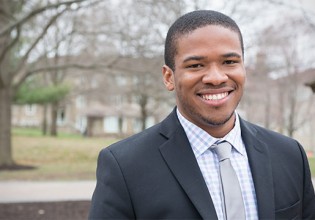 This May Jonathan Jayes-Green will walk across the stage with Goucher's Class of 2014. As soon as he comes back from studying abroad in the Galápagos, he'll officially start as the administrative director of Maryland Governor Martin J. O'Malley's commissions on both Hispanic and Caribbean affairs.
It may sound like a big step, but Jonathan actually has already been on the job in a contract capacity since March.
Most recently Jonathan advocated for the Maryland Dream Act, a law signed by Governor Martin O'Malley and overwhelmingly supported by voters in 2012. The law allows Maryland's undocumented youth, such as Jonathan, who met certain requirements to pay in-state tuition in the state's public colleges and universities. During the same election he also pounded the pavement with Equality Maryland to press—successfully—for the legalization of same-sex marriage and the Dream act jointly under a first-of-its kind partnership that highlighted the commonality of both issues.
Jonathan said his primary goals will be doing the legwork for the commissions as they advise the Governor on issues that affect the Hispanic and Caribbean populations in the state. The Hispanic and Caribbean Commissions are housed under the Governor's Office of Community Initiatives located in Baltimore City. "I'm excited to have the opportunity to work for Governor O'Malley who has been a true partner of the rapidly growing immigrant community in the state." he said. "It's an honor to work to for the betterment of these communities and our wonderful state as a whole."
Jonathan is a Panama native who moved with his family to Silver Spring, MD, when he was 13. His community participation started in high school when he became involved in Montgomery County Councilmember Nancy Navarro's campaign as the director of volunteers. When she won, he became her intern as a high school senior.
Later, when it came time to choose a college, Jonathan focused on schools he could afford—pre-Dream Act. He spent his first two years at Montgomery College. As he began looking for transfer schools, one of his best friends and Goucher grad, Wilmer Gutierrez '09, who loved his Goucher experience, brought Jonathan on a campus tour, where he was able to speak with representatives from admissions and financial aid. Jonathan says he was attracted to the education Goucher offers and their inclusiveness: "I'm really grateful to have found Goucher; the college was one of the very few places that was willing to look at my potential as a student and offer me admission regardless of my [undocumented] status."
Though he is interested in politics, Jonathan decided not to major in political science here at Goucher. He says he had already fallen in love with sociology while taking a class during his sophomore year. Once he transferred to Goucher, his choice in the major was really solidified by taking several sociology courses here and a couple of political science courses in between. "I think the best way to describe where I fall is at the intersection of sociology and political science. In other words, how public policies affect different communities" he said. And he's looking forward to continuing these efforts through his job in the governor's office.
Mileah Kromer, director of Goucher's Sarah T. Hughes Field Politics Center, has taught Jonathan and said he often incorporates his professional experience to inform class discussion. "Jonathan is the quintessential Goucher student—he is passionate, engaged, and inquisitive," she said.
Even though immersed in off-campus activities, Jonathan still has found ways to be an important part of the campus community, such as through his past participation in Goucher's chapter of the Roosevelt Institute Campus Network, a group designed to encourage progressive student leaders, and through the Futuro Latino Learning Center, which provides educational opportunities to the Latino community of Baltimore County.
"Jonathan's commitment to building a better Maryland always stands out in my mind," Kromer said. "He is a constant source of information and inspiration in discussing all things Maryland politics. He knows better than most other young people that big dreams are built on the little details—he always takes the time to learn the ins and outs of all policy-related issues."
Jonathan wakes up every morning to a Maryland flag on his bedroom wall. He says he is excited to continue the work he's been doing for citizens of the state. "I'm looking forward to having an even greater role in this state I call home," he said. "This is a great opportunity and I'm truly honored to have it."