Senior Career Week: Preparing to Succeed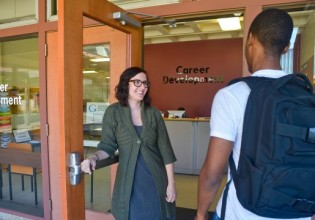 "Where do you see yourself in five years?" is a common job interview question. If you're a senior and you don't have a clue yet about how to respond to that query, don't worry. You'll have many opportunities to explore possible answers to that question and others during Senior Career Week through Goucher's Career Development Office (CDO).
During mock interviews, just one portion of the program, students can go through the steps a real job candidate would experience—from the outfit and handshake to the questioning and eye contact. "It's something you need to do," said Meredith McCook, assistant director of career development at the CDO. "The entire week is a great opportunity."
Students can attend an array of optional workshops, panels, networking opportunities, and interdepartmental discussions during the week. McCook and Danielle Pellegrini, the CDO's assistant director of internships, are coordinating the event and are looking for new and best practices.
The week is primarily geared toward students seeking full-time employment after Goucher and runs from Monday, March 3, to Friday, March 7. "We extended the program to a week and are offering the events at the times of day most students said they were free, so those with busy schedules will hopefully be able to make every session they want," Pellegrini said. Though priority for Senior Career Week events is given to seniors, other students are welcome, space permitting.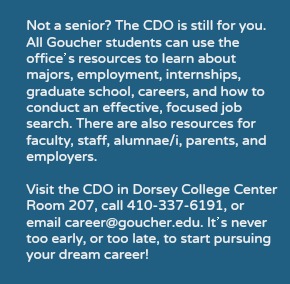 Workshops include résumé and cover letter guidance; job searching tips; networking skills; and social media information, including details on the Goucher Professional Network, a resource on LinkedIn that promotes discussions on career-related topics. Also part of the lineup are panels of HR professionals, alumnae/i, recruiters, and representatives from various campus offices and departments, such as the Academic Center for Excellence. Victor Ricciardi, assistant professor in the Department of Business Management, also will give a student-focused personal finances presentation.
"We're also going to be offering a program about international experience," Pellegrini said, adding that the study abroad requirement can be a strong statement to possible employers. "A lot of students don't even have their study abroad experience on their résumé, and it's important to include. We hope to teach them how to better capitalize on those incredible experiences."
McCook, Pellegrini, and others in the CDO are also looking at more holistic ways to round out students' job searches. "We've already reached out to the Academic Center for Excellence about offering a session on dealing with stress during your job search," McCook said. "We're building in some pieces that are more 'fun focused' as well."
The week will culminate with an employer information session, which is essentially a mini job fair. "Students will have learned all these skills; they've practiced their networking; they've worked on their résumé, and we've talked about researching employers. Let's put it into practice," McCook said.
The CDO is also hosting a walk-in day for seniors, with career counselors at the ready to answer questions. McCook and Pellegrini say they want students to start thinking now about graduation and beyond, urging them to be mindful of their job search well before May.
If you have any questions or comments, feel free to call the CDO at 410-337-6191, email career@goucher.edu, or visit goucher.edu/career-development-office. For a schedule of Senior Career Week, click here.