Women's History Month 2014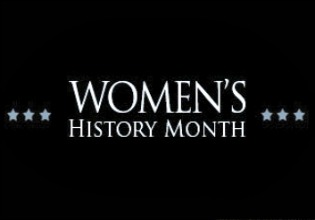 Goucher College is celebrating Women's History Month with the following events, activities, and presentations:
Women's History Month Tabling
Tuesday, March 4, through Friday, March 7
11 a.m. to 3 p.m.
Pearlstone Atrium
Throughout the week, the student club the Feminist Collective (FemCo) will offer snacks and facts and will present interactive activities about awesome women throughout history.
"That Takes Ovaries" Open Mic Night
Tuesday, March 4
9 p.m.
Gopher Hole
Goucher community members will recognize the courageous acts of women through story at this open-mic night.
Trailblazers in Habits Film Screening
Wednesday, March 5
7 p.m.
Kelley Lecture Hall
Trailblazer in Habits is an intimate portrait of a group of American Catholic nuns, the Maryknoll Sisters, who have accompanied the disenfranchised in many parts of the world in their struggle for social justice. Insightful and inspirational, this documentary is a revealing portrait of these courageous women. The film chronicles 100 years and several continents, celebrating the intelligence and tenacity, the love, compassion and generosity of these early feminists.
Following the screening, Dr. Vivien Ng, associate professor and chair of women's studies at the University at Albany, SUNY and principal researcher and associate producer of the documentary, will facilitate a panel discussion with two of the Maryknoll Sisters featured in the film. This event is co-sponsored by the Peace Studies and Women, Gender, and Sexuality Studies Programs and supported by the Stimson Lecture Endowment.
SHEro Craft Night
Thursday, March 13
9:30 p.m.
Gopher Hole
Community members are invited to create crafts to celebrate female heroes.
Iron Jawed Angels Film Screening
Monday, March 24
7:30 p.m.
Welsh Classroom
This acclaimed film at the Sundance Film Festival, shares the story of activists Alice Paul and Lucy Burns during the American women's suffrage movement. These defiant young women shaped early feminism and empowered women across generations to fight and be bold for things we now take for granted. The evening will end with a letter-writing campaign to the women in your life who have empowered you to be bold.
Miss Representation Film Screening
Tuesday, March 25
8 p.m.
Batza Room, the Athenaeum
This film explores how the media's misrepresentations of women have led to their underrepresentation in positions of power and influence. Directed by Jennifer Siebel Newsom, the documentary premiered at the 2011 Sundance Film Festival and aired on the Oprah Winfrey Network.
"The Making of Goddesses"
Wednesday, March 26
5:30 p.m.
Pinkard Room, the Athenaeum
John Mason, a Guggenheim Fellow and Yoruba priest, will present historical information and his own musical compositions about the Orishas (demigods). His program will address the issue of motherhood, its role in the Yoruba tradition, as well as how the spiritual mothers (female Orishas) influenced parenting styles both in and outside of West Africa.
The Vagina Monologues
Friday, March 28, and Saturday, March 29
7 p.m.
Haebler Memorial Chapel
The Vagina Monologues is made up of a varying number of monologues read by a varying number of women. Each of the monologues deals with  matters such as sex, love, rape, menstruation, female genital mutilation, masturbation, birth, and orgasm. A recurring theme throughout the piece is the vagina as a tool of female empowerment and the ultimate embodiment of individuality.
Dance Showcase
Saturday, March 29
7 p.m.
Hyman Forum, the Athenaeum
Goucher's Bollywood Dance Club is hosting a showcase of all of Goucher's dance teams, along with dancers from Johns Hopkins, UMBC, and Towson University. The history of women and dance in India will be presented. This showcase will also include Indian snacks and music from Red Hot Blue, Goucher's co-ed a cappella group, and Kranti, an Indian a cappella ensemble from JHU.
Sponsored by Goucher's Department of Anthropology and Sociology; the Lectures and Fellowships Committee; Peace Studies Program; and Women, Gender, and Sexuality Studies Program, with support from the Stimson Lecture Endowment; FemCo; the Kratz Center for Creative Writing; the SGA, and the offices of the Dean of Students, Community Living, and Multicultural Student Services