Holiday Memories From Around the World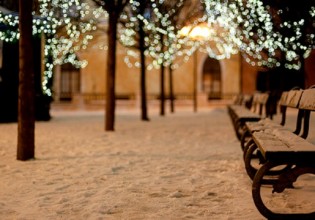 From ice fishing in the eastern Ukraine and Italian vigils at midnight, to being an accidental Santa Claus in Nebraska or relying on strangers for their kindness in Israel, adventures abound during the holidays for those at Goucher. We asked some faculty, staff, and students about holiday memories that reflect their experiences, cultures, religions, and traditions. As classes wind down and the Goucher community scatters to the far corners of the country—and the world—enjoy these reflections from fellow Gophers.
I am French, Parisian even. My father was a second-generation Parisian, so that makes me third-generation Parisian. But my mother came from the Ardennes, a region in the northeastern part of France, that abuts Belgium. When I was a little girl, we would pack up in a car and drive three hours to my grandparents' village, Pouru St Rémy, about 10 kilometers from the Belgian border. There the traditions were different: St. Nicholas was the one who brought gifts to good children (not Papa Noël, who did the job in Paris), or leave a cat o' nine tails to the parents of naughty children. He would leave presents and candies the night of December 6.
What I remember fondly is a song we would all sing with my grandparents about St. Nicholas, who saved children who had wandered away from their homes (obviously not a thing to do) from a butcher who wanted to put them in a barrel full of salt and eat them later! In contrast, Papa Noël was a benevolent old guy with a beard who would come and leave presents on December 24.
I still think presents should be opened on the 24th at midnight, not on the 25th in the morning =)
-Flo Martin, Chair of the Modern Languages, Literatures, and Cultures Department and Professor of French and Francophone Cinema and Literature, France
My mouth waters at the thought of the Eastern Orthodox Christmases that my parents used to celebrate as children growing up in eastern Ukraine in the second decade of the last century. Although religion had been officially banned by the Revolution of 1917, not even the Bolsheviks could squelch the people's enthusiasm for the holiday that fell on January 7. Whenever the harvest was abundant, the Christmas spread reflected it. Aside from carp in aspic, caught fresh from a hole chopped in the ice of the frozen River Udai near my father's village, there was poached fish of every sort doused in tasty sauces. The table groaned under a wide assortment of the requisite meatless dishes: holubtsi, varenyki, borshch. Topping it all off was the kutya, pearls of barley cooked until tender and then steeped in honey mixed with syrup from dried apples, raisins, and poppy seeds. Yum.
-Olya Samilenko, Associate Professor of Russian
I was born in Israel, and my family moved to North Carolina when I was 11. Between high school and college I decided to do a year of service in Israel. While abroad, I imagined the holidays to be a little bittersweet without my family. However, the holidays that year were my most adventurous and incredible. The people in the program and I volunteered in various old-age homes, hospitals, and schools, then we ran a holiday festival in Jaffa celebrating the three main holidays: Eid al-Adha (Muslim), Christmas (Christian), and Hannukah (Jewish). The day after, we invited our families, and though I didn't have my mother and father, I celebrated Hanukah with my 90-year-old grandfather. That evening at 11:30 p.m., one of the program's staff called all the participants and told us that at 4:30 a.m., we must embark on a journey. We were given small amounts of food and money and were told that missions would be sent to us as we completed and documented them. That next day was New Year's Eve. I ended up celebrating it with a few friends and the most wonderful strangers who let us stay in their homes. The following days I traveled across Israel, feeding monkeys in the zoo, rappelling down a cliff, volunteering in various organizations, and even sleeping on the streets for a night. The journey made me believe that anything and everything is possible; you just need to find a way to do it. That's what I remember from last year's holidays.
-Talya Stern '14, Israel and the United States
Growing up in the 70s in northern Italy, I remember waiting for the snow on Christmas Eve as we were getting ready for our big dinner of the vigil. In many parts of Italy, the night before the 25th is still the most important one because it's all about getting ready for midnight, when most families (and even young kids allowed stay up late only for that special night) go to church for the Christmas Mass.
I remember gathering at my grandparents' house in the countryside outside my hometown Torino and helping my grandma prepare the typical "cena della vigilia di Natale": antipasto di pesce e peperonata, cappelletti in brodo, bollito di carne mista con patate e crauti, e panettone (seafood antipasto; roasted peppers; meat-filled pasta in beef broth;mixed boiled meat with vegetables, potatoes, and sauerkraut; and panettone cake). Of course the spumante for the "brindisi" (toast) couldn't be missed, even by the kids! After dinner, we would all watch the classic concert for Christmas on the national TV, broadcasting usually from Rome or la Scala in Milano, and then at midnight I remember walking all together to the village's old church (with some white, fluffy snowflakes, if we were lucky) to hear the beautiful, joyful chants and songs about the birth of Jesus. I remember coming back to the house at almost 1 a.m., where under the Christmas tree magically lay all the presents that Baby Jesus brought us on his birthday (not Santa Claus!). Those moments are still some of the happiest of my life, especially now that I live far from my country and my sisters. But I try to recreate that same atmosphere (and the same menu!) every Christmas here in Baltimore with my daughters!
-Elisabetta Girardi, Instructor of Italian, Italy
Holidays are full of memories, but this memory makes me laugh every time I remember it. I'm from Afghanistan, and we don't celebrate the same holidays, such as Christmas. However, when I was in staying with my host family in Nebraska my senior year of high school, I almost became the Santa on my first Christmas experience. The night before Christmas, I was not feeling well, so I slept through dinner. Of course, that night, my host mom left some Oreo cookies with milk for Santa. I was not aware of this tradition, and when I woke up later that night, I ate the Oreos and the milk (I love Oreos!). I thought that my host mom left them for me since I didn't have dinner. The next morning, my host parents were surprised that the cookies and milk where gone because they usually took them out before the morning. I told them that I ate them, and we all burst into laughter. Overall, I love the holidays because of the good memories and the fact that families and friends get together and enjoy their time in each other's company.
-Freshta Akbari '15, Afghanistan
My family and I celebrate Eid al-Fitr and Eid al-Adha. Eid al-Fitr is the celebration concluding Ramadan, the month of fasting, and is similar to Thanksgiving. People enjoy family visits and eat a lot of food, since the idea is to break their fasts. It is difficult to fast all day for a month while going to school with very few practicing Muslims. I learned to overcome the hunger on my own. My favorite part about the month of Ramadan is that as a family we are scattered, but the month allows us to have family dinner every day. When it ends, we eat EVERYTHING. The sense of generosity and gratitude is also a main component of this festival. Charity and good works have a special significance during the month of Ramadan.
Eid al-Adha is similar to Christmas because it takes place within the two months after Ramadan and Eid al-Fitr. Muslims all over the world celebrate the last the three days of that month to honor the idea of the prophet Abraham's willingness to sacrifice. My family celebrates these three days by sacrificing a lamb, goat, or cow. This sacrifice usually takes place in a participating farm in the U.S. or occasionally in my home country. We distribute the meat to family, friends, and the poor. My siblings and I receive presents, and my mom cooks the fresh meat and invites relatives and friends to join us for dinner, similar to a Christmas dinner. On the first day of this holiday we go to the mosque to perform prayers with other Muslims. Traditionally in America, the Bangladeshi community host meals at one person's house starting from breakfast, and we go from house to house to eat and socialize. This commute from one house to the other continues for three days, and participating hosts cook and share their unique dishes.
– Masuma Islam (Missy) '14, Bangladesh and the United States
Our family celebrates Christmas, and for Puerto Ricans it is the most festive time of the year. The majority of Puerto Ricans look forward to eating the traditional food of "arroz con gandules and pernil" (pigeon peas rice and roast pork). There are two traditions that we remembered fondly growing up in the island: "the parrandas" and "El Día de los Reyes (Epiphany) on January 6." The "parranda" is the Puerto Rican style of caroling. It is a holiday musical tradition where a group of friends surprises other friends at their houses with singing, hand-clapping, and music. You never know when "parranderos" will show up at your house during the night. You need to be prepared to welcome them; sing; dance; feed them; and, in many occasions, join them to continue on to the next house until the early hours of the morning.
Another important holiday is "El Día de los Reyes Magos." On the eve of January 5, our sisters would gather grass in shoeboxes for the camels of the Magi and place them under our beds. In return, we would find presents the next day. The day of the 6th, our family went to church and gathered at our grandparents' house for a big meal. January 6 is the last day of the 12 Days of Christmas that begin on December 25 and go through January 6, ending with the Feast of Epiphany, or "The Adoration of the Magi."
-Sisters Aida Ramos-Sellman and Frances Ramos-Fontán, assistant professor and instructor, respectively, Department of Hispanic Languages, Literatures and Cultures, Puerto Rico
This year was the first time I have ever had an American Thanksgiving. I was invited to a family dinner and enjoyed seeing  families so excited to see each other. It made me miss my family, who I'll see next month on the birthright trip I'm leading with a group of students from Goucher College and Towson University. Since Hanukah and Thanksgiving were celebrated together this year, I experienced both holidays in an interesting way.
Hanukkah here is celebrated very similar to Israel: candle lighting , jelly donuts , latkes, etc . In Israel, Hanukkah has more of a historic nature, whereas other Jewish holidays have more of a religious meaning.
-Adi Snir, Israel Engagement Coordinator with Goucher Hillel, Jerusalem