'Sarah Tilghman Hughes '17 Remembered'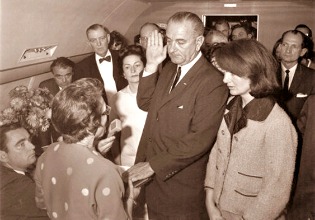 To mark the 50th anniversary of the assassination of John F. Kennedy, Goucher College is presenting a talk honoring the woman who swore in the president's successor, Lyndon B. Johnson, on November 22, 1963.
Sarah Tilghman Hughes, a member of the Goucher College Class of 1917 and a federal district judge in Dallas who had been appointed by JFK, was summoned to Air Force One to administer the oath of office to LBJ before he flew back to Washington following the assassination. She will be remembered on Monday, November 25, at 4:30 p.m., in Buchner Hall of Goucher's Alumnae/i House. Timothy Lloyd Tilghman, a collateral descendant of Judge Hughes, will talk about the historic role she performed on that afternoon as the country roiled with shock and sadness.
Born in 1896, Hughes was raised in West Baltimore. She was a 1913 graduate of Western High School and was a 1917 Phi Betta Kappa graduate of Goucher.
After graduating from law school at George Washington University, she and her husband George Hughes moved to Texas, where she established a law practice and served as a member of the Texas House of Representatives from 1931 to 1935. She became the first and only woman to serve as a state district judge in 1936, at a time when women could not serve on juries. In 1961, John F. Kennedy appointed her to a federal judgeship in Texas.
Two years into her tenure as a federal district judge, Kennedy was assassinated. Johnson was advised that any federal judge could swear him into the top office, but he summoned Hughes. She administered his oath of office aboard Air Force One at Dallas' Love Field.
"The whole thing took no more than 10 minutes," Hughes told the Baltimore Sun Magazine in a 1972 interview. "I think as soon as I was off the steps, [the presidential plane] took off."
Hughes often returned to Baltimore to attend reunions at Goucher and give lectures. She died in 1985 at age 88.