28th Annual Janet and Avery Fisher Music Residency Concert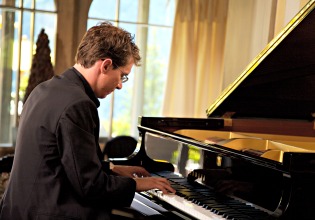 Swiss-born American pianist Gilles Vonsattel will be the featured performer at Goucher College's 28th Annual Janet and Avery Fisher Music Residency Concert on Wednesday, October 16, at 8 p.m. in Merrick Lecture Hall. Vonsattel will perform Heinz Holliger's Partita; Franz Liszt's Les jeux d'eau; Ludwig van Beethoven's Sonata Op. 27, No. 2 ("Moonlight"); Claude Debussy's Images – Série II; and Frederic Rszewski's Winnsboro Cotton Mill Blues.
The concert is free and open to the public, but tickets must be reserved by logging onto www.goucher.edu/tickets or by calling 410-337-6333.
On Tuesday, October 15, Vonsattel also will present a lecture/demonstration at 7 p.m. and a master class at 7:45 p.m. The public is invited to observe both events, which are free and will be held in Merrick Lecture Hall.
Vonsattel—recipient of a 2008 Avery Fisher Career Grant—is an artist of singular breadth, with a repertoire that ranges from Bach's Art of the Fugue to works by avant-garde composer Iannis Xenakis. Deeply committed to the chamber music repertoire, he is a former member of the Chamber Music Society Two and began as an artist member of the Chamber Music Society of Lincoln Center in the 2012-13 season.
Vonsattel began touring in concert after winning the prestigious 2002 Naumburg International Piano Competition. He made his Alice Tully Hall début that same year and has since performed with the Warsaw Philharmonic; at Zürich's Tonhalle, Warsaw's Chopin Festival, and Tokyo's Opera City Hall; and in the United States with the Utah, Santa Fe, Nashville, and Grand Rapids symphonies, and the Boston Pops Orchestra.
Vonsattel has performed on the renowned stages of Boston's Symphony Hall, Cleveland's Severance Hall, Herbst Theatre in San Francisco, Aspen Music Festival's Benedict Music Tent, Manchester's Bridgewater Hall, and Geneva's Victoria Hall. Recent recitals include performances at the Library of Congress, the Gilmore Festival, La Roque d'Anthéron, Musée d'Orsay, Davos Festival, Zürich's Tonhalle, Warsaw's National Philharmonic Hall, La Jolla Music Society, the Munich Gasteig, and Atlanta's Spivey Hall.
Vonsattel is also regularly invited to prestigious festivals, including Rockport, Angelfire, Ottawa, Bridgehampton, Bard SummerScape, Seattle, Caramoor, West Cork, and Archipel.
He has been heard frequently on NPR's Performance Today, Radio France Musique, CBC, ARD, and the BBC. Vonsattel's recording of Liszt's solo works and Beethoven's Piano Concerto No. 1 with L'Orchestre de Chambre de Genève was released in 2007 to critical acclaim. His 2011 recording of music by Debussy, Honegger, Holliger, and Ravel was named one of Time Out New York's classical albums of the year.
In addition to the Avery Fisher Career Grant, Vonsattel won the 2006 Geneva International Music Competition, and he was a laureate of the 2009 Honens International Piano Competition in Calgary and of the Cleveland and Dublin piano competitions.
After studying with pianist David Deveau in Boston, Vonsattel received his bachelor of arts in political science and economics from Columbia University and his master of music from The Juilliard School, where he worked with Jerome Lowenthal. He is an assistant professor of piano at the University of Massachusetts Amherst.
The Janet and Avery Fisher Music Residency is funded by the late Janet Fisher, a 1938 Goucher alumna, in memory of her late husband. This annual two-day residency offers music students the opportunity to interact with and learn from internationally known professional musicians. Past Fisher artists in residence have included Igor Begelman, Shai Wosner, and Anthony McGill.