Sanford J. Ungar to Step Down as President in June 2014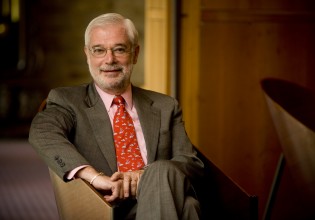 Goucher College President Sanford J. Ungar has announced his decision to step down next summer after leading the liberal arts college for 13 years. Ungar became Goucher's 10th president in July 2001, and his plans to leave the college will take effect June 30, 2014.
"My time at Goucher has been one of the most fulfilling experiences of my career and my life," says Ungar. "It has been a great privilege to help find new ways to enhance and honor the liberal arts tradition that is at the heart of this institution. Our students are among the very best in the business—innovative, highly motivated individuals, and independent thinkers who will make a major difference in the world when they leave us. Goucher is a wonderful place to study, think, work, and grow."
Ungar made his announcement in a letter last Friday to Board of Trustees Chair Norma Lynn Fox, director of clinical development at GlaxoSmithKline. "I have tremendous respect for Sandy's judgment and leadership and trust his decision to step down next year, when he will have served as Goucher's president for 13years," says Fox. "The college has benefitted from his extraordinary leadership and will continue to do so as he finishes up his last year at our helm."
During his tenure, Ungar has helped to reinvigorate the college's liberal arts curriculum, brought the college national prominence with its unique international perspective, burnished Goucher's image locally and nationally, and greatly increased the campus's academic, athletic, and residential facilities, among other achievements.
Highlights during Ungar's leadership of Goucher include:
In Fall 2006, Goucher launched the country's first study-abroad requirement for all undergraduate students, as part of a curriculum that reflects the core values underpinning a liberal arts education.
Goucher's flagship building, the Athenaeum, was completed in 2009 and LEED-certified at the Gold level in 2010. The 103,000-square-foot Athenaeum has become the central gathering place on campus.  It is open 24/7 and features a technologically superior library; an open forum for public events; a café; an art gallery; a center for community service and multicultural affairs; classrooms and group study rooms; and spaces for exercise, conversation, and reflection.
The Julia Rogers Building, former home of the college library, will reopen later this summer as a 21st-century academic center that will feature research labs, active-learning classrooms, much-needed faculty offices, dynamic public spaces, and environmentally friendly building elements.  The extensively renovated building is expected to be LEED-certified at the Silver level.
Katharine and Jane Welsh Hall, a 70,000-square foot, all-suites-and-apartments residence hall, was opened in 2005. Additionally, a major bequest to the college was used to fund a major upgrade to fitness and athletic facilities, including a synthetic-turf field and a strength-and-conditioning center.
The size of the undergraduate student body has gradually grown from 1,200 to 1,500, and great strides have been made to increase the diversity among students, as well as among staff and faculty. The faculty has grown by more than 40% since 2001.
Goucher has embarked on a far-reaching campaign to promote environmental sustainability through both its co-curricular activities and its academic programs. The college is committed to reducing its total GHG emissions by 20 percent below its 2009 emissions by 2020.
Goucher's historical engagement in Baltimore City and its long-standing commitment to social justice and civic involvement have continued to grow. Hundreds of students have volunteered thousands of hours in schools, nonprofit organizations, and social service agencies throughout the Greater Baltimore area.
"Transcending Boundaries: The Campaign for Goucher College," which went public in 2007, met its original fundraising goal of $80 million well ahead of schedule in 2009. The campaign was extended for two additional years, and a total of more than $117 million was raised.
Goucher launched two new limited-residency, distance-learning graduate programs that are the only ones of their kind in the country—the Master of Arts in Cultural Sustainability and the Master of Arts in Digital Arts programs.
Goucher has brought an impressive array of writers, politicians, activists, scientists, and artists to engage its students, faculty, staff, and the greater community. These guests have complemented the impressive performances by Goucher's own musical, theatrical, and dance ensembles and the lively matchups of the college's student-athletes.
While Ungar has been able to accomplish so much in conjunction with the college's talented faculty and staff, innovative and bright students, Board of Trustees, generous alumnae/i from across the country and the world, enthusiastic Goucher families, and other friends and supporters, he recognizes that there are many political, financial, and curricular challenges that American higher education—particularly liberal arts colleges—will face in the years ahead.
"I believe Goucher is well-positioned to deal with these issues, but I also feel it is time for the college to seek a new leader who can bring his or her own experience and perspective to bear and move this remarkable institution forward," Ungar says.
"Sandy Ungar has been a great advocate for Goucher and for the liberal arts," said La Jerne Terry Cornish, chair of the college's faculty and Education Department. "On behalf of my faculty colleagues, we thank him for his years of dedicated service to the college and its community of learners."
"Sandy's roots are as a writer, and he says it is time to start a new chapter in his life," says Fox. "He will leave his presidency with the college in a strong position, and we look forward to his keeping close ties with the college after he sets off to focus on several important writing and other projects."
After a year-long sabbatical, Ungar plans to return to Goucher in the fall of 2015 and teach in the History and Communication and Media Studies departments.
"I am grateful for the opportunity I have had to be the 10th president of Goucher, and I am pleased to have traveled around this country and many other parts of the world as its representative," says Ungar. "I will, of course, always be a Gopher at heart and will do anything I can to promote the college's prospects and reputation for the rest of my days."
Prior to assuming his position at Goucher, Ungar was director of the Voice of America, the U.S. government's principal international broadcasting agency, for two years during the Clinton administration. He is respected educator who previously served as dean of the School of Communication at American University. Ungar also is a respected international journalist with extensive experience at news organizations such as Foreign Policy, The Washington Post, and The Atlantic, and he was an award-winning co-host of All Things Considered at NPR. He is a graduate of Harvard College and the London School of Economics and the author or editor of six nonfiction books.
A search for a new president will be launched in the near future.