Fall 2013 Robert and Jane Meyerhoff Visiting Professor: Frank Bruni of The New York Times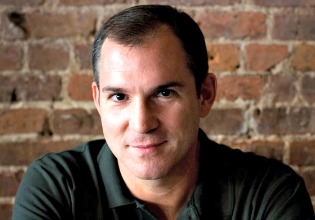 Frank Bruni, the New York Times' first openly gay op-ed columnist, will present "A New Day: Same-Sex Marriage in America" on Monday, September 30, at 8 p.m. in Hyman Forum of Goucher College's Athenaeum.
This event is open to the public, but tickets are required for all attendees. Tickets are free for Goucher students, faculty, staff, and alumnae/i; $10 for general admission. Reservations must be made in advance by logging on to www.goucher.edu/tickets or by calling 410-337-6333.
Bruni, Goucher's Fall 2013 Robert and Jane Meyerhoff Visiting Professor, has been an op-ed columnist for The New York Times since June 2011. He joined the paper in 1995, first working for the metropolitan desk. He and three colleagues won the George Polk Award that year for coverage of the child-abuse death of Elisa Izquierdo.
He later moved to the Washington bureau, covering Congress and George W. Bush's presidential campaign and first year in office. He left Washington to serve as the Rome bureau chief from 2002 to 2004 and then became as The Times' chief restaurant critic from 2004 to 2009.
Bruni has consistently contributed to The Times' Sunday magazine, and during two periods—most recently from 2009 to 2011—he was one of its staff writers. For the magazine he has profiled an array of prominent politicians and entertainers, including Hillary Clinton and J. J. Abrams. His work has also frequently appeared in the newspaper's Travel, Arts & Leisure, and Book Review sections. From 2010 to 2011, he additionally wrote a column on bars and drinking, called "The Tipsy Diaries."
Bruni came to The Times from The Detroit Free Press, where he wrote a profile of a convicted child molester that was a finalist for the Pulitzer Prize in feature writing.
He has also written two New York Times best sellers: a memoir, Born Round (2009), and Ambling Into History (2003), a chronicle of George W. Bush's campaign for the presidency, and he was the co-author of A Gospel of Shame: Children, Sexual Abuse and the Catholic Church (1993).
Bruni earned a B.A. degree (Phi Beta Kappa) from the University of North Carolina, Chapel Hill, where he was a Morehead scholar, in 1986. He received an M.S. degree in journalism, with highest honors, from the Columbia University Graduate School of Journalism in 1988, graduating second in his class and winning a Pulitzer Traveling Fellowship.
The Jane and Robert Meyerhoff Visiting Professorship was created to bring distinguished scholars, teachers, and practitioners to Goucher's campus to advance local and national dialogues on pressing issues of our time. Previous speakers have included Doris Kearns Goodwin, Pulitzer Prize-winning American biographer; Cory Booker, mayor of Newark, New Jersey; Jane Goodall, British primatologist, ethologist, and anthropologist; staunch preservation advocate Robert F. Kennedy Jr.; Thomas L. Friedman, the three-time Pulitzer Prize-winning journalist and world-renowned author; and the late Dr. Wangari Muta Maathai, the Kenyan environmental and political activist who, in 2004, became the first African woman to receive the Nobel Peace Prize.