Kratz Center for Creative Writing Presents Lynda Barry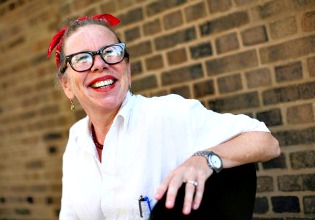 The Kratz Center for Creative Writing at Goucher College is pleased to welcome the cartoonist and novelist Lynda Barry as the Fall 2013 Visiting Author. Barry will read and discuss her work and sign books on Wednesday September 25, at 8 p.m. in the Hyman Forum of Goucher's Athenaeum.
This event is free and open to the public, but tickets must be reserved at www.goucher.edu/tickets or by calling 410-337-6333. For more information, contact the Kratz Center at kratz@goucher.edu.
One of America's premier visual storytellers, Barry has worked as a painter, cartoonist, writer, illustrator, playwright, editor, commentator, and teacher. She first gained acclaim for her long-running weekly comic strip for The Chicago Reader, "Ernie Pook's Comeek," which was syndicated across North America in alternative weeklies for almost three decades. Barry, along with her close friend and fellow cartoonist Matt Groening (creator of The Simpsons), is credited with expanding the literary, thematic, and emotional range of American comics.
Barry has published an array of illustrated novels and comics, including Girls and Boys (1981), Big Ideas(1983), Everything in the World (1986), Down the Street (1988), The Fun House (1988), The Good Times Are Killing Me (1988), Come Over, Come Over (1990), My Perfect Life (1992), The Lynda Barry Experience (1993), It's So Magic (1994), The Freddie Stories (1999), Cruddy (1999), The Greatest of Marlys (2000), One! Hundred! Demons! (2002), What It Is (2008), Picture This: The Near-Sighted Monkey Book (2010), and Blabber Blabber Blabber: Volume 1 of Everything (2011). The Good Times Are Killing Me, a play about interracial friendship, was made into an off-Broadway play in 1991.
Barry is also an internationally recognized arts educator who offers workshops, which she bills as  working "ESPECIALLY WELL FOR 'NON-WRITERS' like bartenders, janitors, office workers, hairdressers, musicians, and ANYONE who has given up on 'being a writer' but still wonders what it might be like to write. She has taught the very popular workshops at such institutions as the Omega Institute in Rhinebeck, New York; The Crossings in Austin, Texas; Arts Institute and Department of Art at the University of Wisconsin-Madison; and the Capilano University in North Vancouver, British Columbia.
Born in Wisconsin in 1956, Barry was graduated from Evergreen State College in Olympia, Washington.