Constitution Day 2013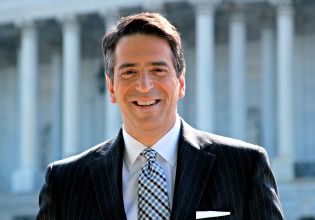 Goucher College will celebrate national Constitution Day on Tuesday, September 24, with a talk by James Rosen, journalist, author, and chief Washington correspondent for Fox News. The presentation, titled "Is the First Amendment in Trouble?," will be held at 7:30 p.m. in the Hyman Forum of the Athenaeum.
This event is free and open to the public, but tickets must be reserved at www.goucher.edu/tickets or by calling 410-337-6333.
Rosen has been an on-air correspondent for Fox News since 1999, serving as a White House correspondent during the administrations of Bill Clinton and George W. Bush. He also spent more than four years covering the State Department under secretaries Condoleezza Rice and Hillary Clinton. Rosen has reported from Capitol Hill, the Pentagon, and the Supreme Court; from nearly all 50 states; and from three dozen foreign countries on five continents, including Iraq and Afghanistan.
Rosen's exclusives have included breaking news on Iran and North Korea, as well as in-depth interviews with leading political and literary figures ranging from William F. Buckley, Jr. to Tom Wolfe.
In addition to his television career, Rosen is a prolific writer whose articles and essays have appeared in The New York Times, The Washington Post, The Wall Street Journal, Politico, Playboy,The Atlantic, Harper's, National Review, and the American Bar Association Journal, among other periodicals.
Rosen published the book The Strong Man: John Mitchell and the Secrets of Watergate in 2008 to wide critical acclaim and is now working on a book about the Beatles, for which he recently interviewed Sir Paul McCartney.
He received his bachelor of arts in political science from The Johns Hopkins University and his master's degree in journalism from the Medill School of Journalism at Northwestern University.
Speakers at Goucher's previous Constitution Day programs have included Maryland Comptroller Peter V. R. Franchot; David S. Ferriero, the archivist of the United States; U.S. Senator Benjamin L. Cardin; State Senator Jamie Raskin; former U.S. Senator Paul S. Sarbanes; former Maryland Secretary of State Mary D. Kane; and State Senator Richard S. Madaleno Jr.