Goucher Featured in the Princeton Review's 'The Best 378 Colleges'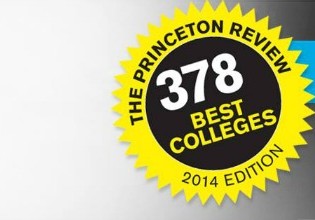 Goucher once again has been included in The Princeton Review's annual guide The Best 378 Colleges¸ based on the college's outstanding academic programs. Additionally, Goucher was No. 1 on the guide's 2014 list of schools with the "Most Popular Study Abroad Program."
Only about 15 percent of America's 2,500 four-year colleges, along with four colleges outside the United States, are profiled in the guide. While the Princeton Review does not provide an overall rank of the colleges in the book, it does include detailed profiles of all the colleges with rating scores in eight categories, including Academics; Admissions Selectivity; Financial Aid; Fire Safety; and Green Rating, for which Goucher scored a 94.
The scores are presented as a scale of 60 to 99 and are based on institutional data The Princeton Review collected during the 2012-13 academic year and its surveys of 126,000 students (about 333 per campus on average) attending the colleges. The guide also tallies top-20 ranking lists in a broad range of categories based on the student surveys, including for international study. The Princeton Review explains the basis for each rating score in the book and at www.princetonreview.com/college/college-ratings.aspx.
"Every college in our book offers outstanding academics," says Robert Franek, the guide's author and Princeton Review senior vice president and publisher. "We don't rank them academically, 1 to 378, because they differ importantly in their academics, services, and campus culture. That variety is their strength. Our purpose is not to crown one college 'best' overall, but to give applicants the resources and campus feedback they need to choose, get into, pay for, and graduate with a job from the college that's best for them."
Goucher students surveyed for the book say the college has a "gorgeous campus" and a "fantastic location" just outside Baltimore with close proximity to Washington, DC. In the "tight-knit community," students are encouraged to "develop close relationships with professors and with other students." Goucher students "understand that exploring cultures outside your own is important" and pursue a "focused track of study within a well-rounded and rigorous liberal arts curriculum." The college's students sum up their experience as "a rigorous education in a green environment, with a focus on community and world awareness."
Review Goucher's profile at http://www.princetonreview.com/GoucherCollege.aspx.