2013 Goucher Vagabonds Hit the Road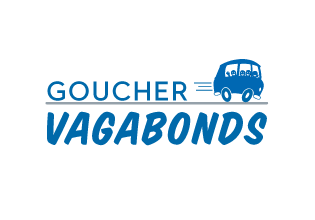 On July 25, the Goucher Vagabonds will be hitting the road, traveling between Northern Virginia and Maine to help connect the college's alumnae/i with one another and with their alma mater, and they will welcome first-year students to the Goucher community.
The Vagabonds Program is a joint effort of Goucher's Development & Alumnae/i Affairs and the Office of Undergraduate Admissions. Four undergraduate students were selected to represent the college and engage alumnae/i and new students through social media, one-on-one interactions, and off-campus events.
This year's Vagabonds are Elizabeth Depta '15, Maring Eberlein '15, Dana Ehrentreu '16, and Eli Kaufman '15.
The big theme the Vagabonds will be passing along is "Goucher for Life," a key tenet of the college's strategic plan. The teams will attend informal get-togethers in various cities to engage alumnae/i as dedicated participants in the life of the campus, as supporters of the academic program, as career resources, and as philanthropists committed to Goucher's continued success.
The Vagabonds also will connect with incoming Goucher students at send-off parties, which are held each summer in various cities to welcome new members of the Goucher family—and to offer students and parents a chance to get to know one another.
Team members will share what happens on their journeys with blog posts filled with tales of the road, stories about the sights they see, and details about their visits and conversations with all the alumnae/i and incoming students they meet along the way. As they travel, they'll also be documenting their stories with photos and video.
Follow the Goucher Vagabonds 2013 as they go from city to city by following their blog postings or visit the Goucher Vagabonds on Facebook.